Angels in the classroom at UNH
New student-managed investment fund formed, ready to start in the fall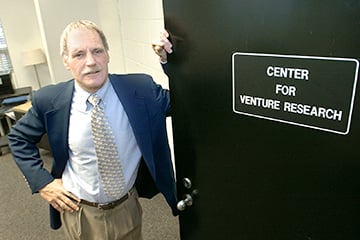 A new student-managed angel fund at the University of New Hampshire not only will give students investing experience but could also help the local startup economy.
Starting this fall, about 30 sophomores, juniors and seniors from a variety of majors will meet with the eCoast Angel Network in Portsmouth and Alpha Loft's Accelerate NH program to learn how to evaluate a startup and balance the risks and rewards before making their first investment.
"We've been trying to do this for 20 years, believe it or not," says Jeffrey Sohl, director of the Center for Venture Research at UNH and supervisor of the two-credit class.
What got the ball rolling was interest from a few of Sohl's students and a donor, Mel Rines, UNH Class of 1947. Rines worked as managing director and senior international investment banker at Kidder Peabody. He had seeded and co-directed the International Private Enterprise Center at UNH to foster private sector growth in the U.S. and developing countries.
"Mel's knowledge of the world of international investment banking is matched only by his generosity," said UNH President Mark Huddleston in a press release. "When presented with the idea of establishing this new fund he immediately saw the value in it for our students and redirected an earlier more general donation to the university."
As Sohl puts it, "the stars were aligned perfectly this year."
Having been where the term "angel investor" was coined, it's only fitting that UNH will become one of the first universities in the country to have a student-managed angel fund. In 1981, Sohl's predecessor at the Center for Venture Research, Bill Wetzel, first used the term in the Sloan Management Review, says Sohl.
Since last September, four students have been working as the fund's executive council and are in the last round of interviews with the 35 applicants.
"So we're hopefully getting a lot of undergraduates excited in getting involved in and staying involved in the entrepreneurial structure," says Sohl.
When asked how much money the students had available to invest, Sohl said it was in the mid-six-figure range.
"Now, we're going to be careful … the returns take a while so we're going to take our time," says Sohl. "We have to make money. Obviously, we have a double bottom line here. It's a tremendous learning opportunity for students, but it is capitalism."
The students will also be mentored by alumni, entrepreneurs and private equity investors.
Sohl says the fund "will certainly improve [the startup] ecosystem [in New Hampshire."
"Besides the big educational piece for New Hampshire students is the opportunity for students to stay in the state, once they learn how the infrastructure works, but also the entrepreneurs will receive a pretty due-diligence report from students who have studied this area, so this will help the entrepreneurs even if they don't receive funding," says Sohl.
He says that "ideally, it could be mid-fall when we make our first investment."