Amy Chhom, 2016 Outstanding Woman in Business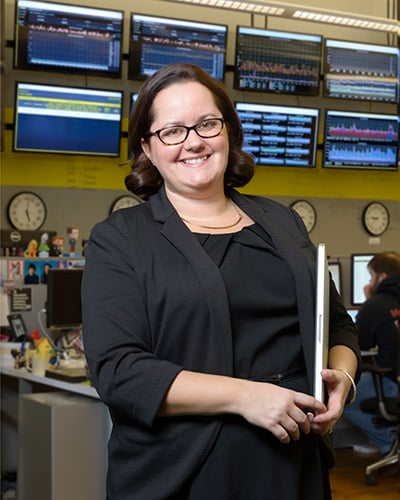 'Network, network, network. Put yourself out there. Don't just wait for people to come to you.'
For 13 years, Amy Chhom moved up the ranks at Anagnost Investments. Starting out as a property manager and executive assistant to Dick Anagnost, she learned quickly from her mentor, and was promoted to director of real estate and development and then vice president of Metropolis Property Management Group, an arm of Anagnost Investments.
Working for Anagnost opened up doors, and Anagnost's flexibility allowed Chhom to further grow professionally. She took advantage of programs like Leadership Greater Manchester and Leadership New Hampshire. And she became involved in community organizations like NeighborWorks Southern New Hampshire and Holy Cross Family Learning Center.
Through this involvement, Chhom built her own relationships and identity in New Hampshire, separate from Dick. And it was through these programs she was offered a job with Internet performance company, Dyn.
As director of global facilities at Dyn, Chhom has been able to take her business operations and staff management skills and apply them globally. In addition to North America, she manages facility and daily operations of Dyn offices in the U.K., Australia and Singapore. Chhom has already successfully relocated and retrofitted an office in Brighton, England, tripling business operations.
Q. What do you think of mentoring in terms of impacting one's career?
A. I think mentoring is probably more important than anything else. My degree's in fine arts. Through his mentorship and his willingness to teach me and guide me and answer my questions, Dick Anagnost was always open and flexible to being able to do that. He also gave me the ability to join Leadership Greater Manchester and Leadership New Hampshire and get myself involved in boards and community organizations through relationships that he had. It just opened my eyes to a different way of doing business that I probably wouldn't have gotten if I had gone to a normal school and gotten my business degree and got right into working in a corporate environment.
Q. What is the importance of being on boards?
A. My board involvement has opened up relationships. I initially got involved because I wanted to step out of Dick's shadow as his right-hand girl. I wanted to establish my own identity as being somebody who could take ownership over certain tasks or just prove I could do it to myself, outside of Dick telling me what to do.
Through my involvement, I developed my own relationships. They began to see me as also kind of somebody on their own they could go to get counsel or advisement or direction.
Q. How do you balance your personal and professional lives?
A. I have a very supportive husband. If I was a single mom or a divorcee, I don't know if I could do it. But my husband takes on the role. So he's out early in the morning, so I do the morning shift, getting the kids out the door, getting them to school, and he does the pickups and takes care of getting them settled and doing their homework and all of that. Most of the times, he's cooking dinner or he's doing all the night duty.
I would be very bored if I was doing something that wasn't as challenging. I can't imagine I'm ever going to run my own business or be my own boss or do anything more impactful than I'm doing now. Dyn is being this economic engine that is attracting other businesses to move here, and it's exciting to be a part of something that's actually making a positive impact.
Q. What advice would you give to young women just starting their careers?
A. Network, network, network. Put yourself out there. It doesn't matter who the person is; everybody has value. Whether it be through them giving advice, perspective, counsel, get to know and understand people. You just never know who's who, or how they can help you, or how you can help them. I'll always take the time to give people my time and my advisement, because there may be a time when I'll need them. Put yourself out there. Join the young professionals network. Join and have a voice. Don't just wait for people to come to you.
Q. What were some of the biggest challenges to getting to where you are today?
A. I think being taken seriously, being listened to. Similar to my advice to young women, it's putting yourself out there, making your own name and finding ways to adapt to different lifestyles or behaviors. If you can't have a conversation with a construction guy and then move into another room and have a conversation with a CEO, you're going to be stuck where you are for the rest of your life. You have to be able to work with different types of people.