Allegro MicroSystems expands production line with Taiwan manufacturer
Manchester-based manufacturer partners with global semiconductor foundry to fabricate chips for production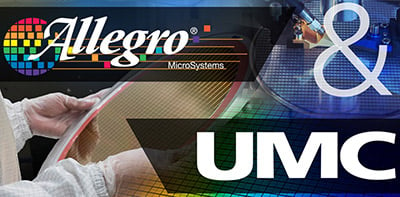 Allegro MicroSystems, a Manchester-based developer of high-performance power and sensing semiconductors, has signed a long-term agreement with United Microelectronics Corporation, a Taiwan global semiconductor company, for UMC to continue fabricating Allegro chips for production.
The agreement covers technical collaboration and establishes capacity at UMC for Allegro's proprietary automotive-grade technologies, supporting the strong long-term growth projections of Allegro. The two companies established a previous agreement in 2012 that initiated the transfer and production of Allegro's own technologies to UMC's manufacturing facilities.
"We wanted a partnership that would help us expand Allegro's business and portfolio. UMC has been extremely successful in satisfying the technology, quality, and production needs of our customers," said Thomas Teebagy, senior vice president of operations and quality. "UMC has the capacity and technology to accommodate Allegro's projected growth and increasing wafer shipment requirements."
Allegro has previously offloaded processes to UMC and will continue to offload its own processes under the newly signed agreement. Currently, the two companies are developing Allegro's A10S and A10P 0.18um BCD technologies as well as supporting custom, leading edge GMR / TMR on-silicon integration.
Bruce Lai, vice president of 8" operations at UMC said, "UMC's sustained effort towards developing robust specialty and automotive technologies has enabled us to become a foundry leader in automotive IC production, with AEC-Q100 qualified processes backed by manufacturing that complies with rigorous ISO TS-16949 automotive quality standards for all UMC fabs. We value our long-standing partnership with Allegro to produce their automotive ICs, and we are pleased to extend our cooperation through this new agreement to support their future growth requirements and help enhance their market position."