Aging baby boomers raise workforce questions for employers
NH Business Review Health Care Forum explores state's changing demographics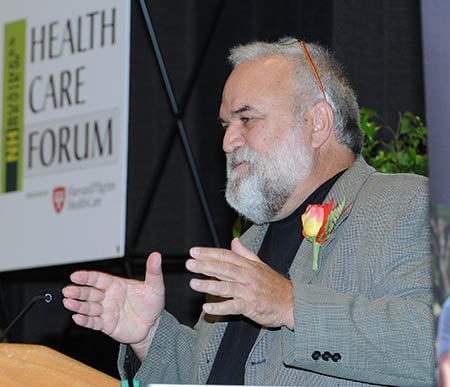 Neither the workforce nor the health care system is prepared for the mass aging of baby boomers, but steps can be taken to remedy that, keynote speaker Dr. Bruce Clark, cofounder of Age Wave and Impact Presentations Group, told attendees at NH Business Review's Health Care Forum presented by Harvard Pilgrim Health Care.
"The Business of Health Care: Managing an Aging Workforce" was the overriding topic of the seventh annual forum, which convened Thursday, Oct. 8, at the Grappone Conference Center in Concord. The event examined issues related to the nation's and state's changing demographics: by 2030, about 72 million people nationwide will be 65 or older, compared to 41 million now; by 2025, one-third of New Hampshire's population will be over 65.
"We're terribly unprepared for the whole retirement phenomenon," said Clark. "There are two questions I ask people: one, can you afford traditional retirement? That's what we need to think of when we're managing an older workforce. And also, do you want to retire? And that question is not as simple as it may sound."
Panelists, including Cynthia Ring, chief human resources officer at Harvard Pilgrim Health Care, brought up the idea of "phased retirement." Ring said Harvard Pilgrim offers that option, enabling older employees to go part time if they choose and to mentor younger employees, allowing for continuity in the office.
Educating employees on their options was a suggestion made by Wendy Sage-Matis, marketing director at The Courville Communities, a New Hampshire senior living company. Sage-Matis discussed offering educational seminars on health care options and signing up an aging parent for Medicare.
Educational sessions on retirement benefits would be helpful, too.
Citing the Employee Benefit Research Institute, Dr. Clark said 58 percent of employees 55-to-64 years old thought they had a pension, but only 37 percent did. A quarter of those surveyed didn't have a 401(k) set up.
But companies can no longer assume employees will retire at age 65, as was the traditional action when pensions were common, said Mark McCue, partner at Hinckley Allen. However, companies can start talking to employees around age 60 as to what is their plans and whether they want to move to part time and/or accept mentoring opportunities.
"One [piece of] advice I would have, in terms of flexibility, is to define the positions by the functions that happen and be objective as possible in what people need to do in order to perform those functions," said McCue. "If they are no longer able to do that, [then] you can objectively say [they're] not able to fulfill the obligations or requirements of this job, not because of [they're] age."
Chronic conditions
The Age Discrimination Employment Act and the Americans with Disabilities Act are legal protections against ageism in the workplace. Employers are prohibited from making work decisions or providing benefits that discriminate against a worker's age. And the latter states an employer cannot assume that disabilities will worsen with age.
For instance, McCue referred to one case in which a company fired an employee over age 65 claiming the move was performance-related when emails revealed the employer was seeking to lower health care costs.
Companies need to consider life stage versus age, said Clark, since we feel 10 to 15 years younger than we are. He told his own story of taking a consumer survey in his early 60s that pitched products like a scooter and grave plot.
But it is true that one's 60s is a pivotal time in health care.
"The bottom line is the boomers are about to get sick. The boomers are turning 60 and 65 at the rate of 8,000 to 10,000 a day, and as they head into that sixth decade of life, chronic disease becomes the name of the game," said Clark.
About 70 percent of total care is related to five conditions – diabetes, asthma, congestive heart failure, depression and coronary artery disease. Cancer and maternity account for a total of 9 percent of care, said Clark.
Home care revolution
And while there are currently 41 million people age 65 and over, there will be 72 million by 2030.
"We've got the wrong health care system for what lies ahead," said Clark. "I think we need to start a 10-year process, because I think it's going to take ourselves a long time to get oriented around this one. We need to build and nurture our community care network."
That includes things like online care, social workers and caregivers' support as well as organizations like AARP, churches and Meals on Wheels.
"It's not organized at all. In fact, it's almost lethal in terms of it not being organized," said Clark, who argues there needs to be a hub to manage all of the different organizations, which is easier said than done.
On the other hand, electronic medical records and health monitoring devices, connected to smartphones, are making big strides in patient-doctor communication, said Clark. Starting next year, Medicare will reimburse doctors for visits with patients over Skype. And products like ultrasounds and glucose monitoring adaptors for smartphones, as well as smart toilets to collect samples, will be available soon.
The development of electronic health monitoring devices is creating a revolution in home care, said Clark, something he expects will create a significant subset of the health care system over the next few years.
Presenting sponsor of the NH Business Review Health Care forum was Harvard Pilgrim Health Care.
Other sponsors included Gold Sponsor: Dartmouth-Hitchcock; Silver Sponsor: Hinckley Allen; Bronze Sponsors: Northeast Delta Dental, Workforce Wellness, Edify Multimedia Group.
General Sponsors: Atlantic Parking Services, Business Industry Association, Rath, Young, Pignatelli, Genesis Healthcare, Devine Health, Kindred Transitional Care and Rehabilitation, The Courville Communities, Bentley Commons, Benchmark Senior Living.