Affordable housing looms large as hospitality industry leaders weigh labor needs
Shortage of lower-cost housing affects workforce pool, executives say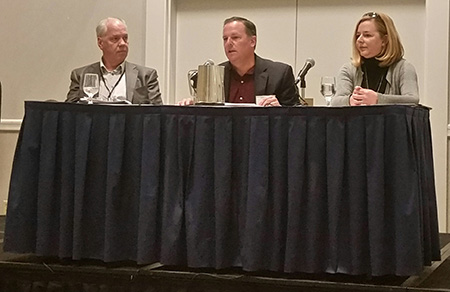 The shortage of affordable housing is among the biggest hurdles in their efforts to expand a labor pool, hospitality industry executives said as part of the NH Department of Resources and Economic Development's latest sector partnership meeting to gauge the concerns of businesses.
The meeting, held Tuesday at the Grappone Conference Center in Concord, attracted industry leaders, including Mike Somers, president and CEO of the NH Lodging and Restaurant Association, Tom Boucher, CEO and owner of Great NH Restaurants, as well as representatives from workforce training efforts, including the state-funded NH Works, the Manchester nonprofit My Turn, and Jobs for the Future, a Boston-based consulting agency hired by the DRED to manage workforce initiatives that emerge from the sector partnership meetings.
A panel that featured Boucher, Jayne Bizier, director of human resources for Attitash Mountain Resort and Wildcat Mountain, and Melan Hotel Group founder Rob McCarthy pinpointed recurring themes, the most prevalent of which being the vast issue of a lack of affordable housing and how it is resulting in an increasingly shrinking labor pool for employers.
Boucher spoke anecdotally about opposition to affordable housing options in the apartments built behind his Copper Door restaurant in Bedford.
"I have 10 employees who work at Copper Door who could live in those apartments. They're working, they're serving, they need an affordable place to live. They can't afford a $425,000 home," said Boucher. "I'm sure it's that way in Portsmouth [too]. We need more workforce housing to attract employees."
Employer-based solutions?
A member of the audience mentioned Senate Bill 94, which originally sought to allocate $25 million of workforce housing money from the capital budget to the Affordable Housing Fund. The appropriation has been amended to $5 million.
When the idea arose that employers might need to fill the gap by providing their own affordable housing options, Vinnie Spiotti, director of lodging operations for the Appalachian Mountain Club, cautioned against the idea of becoming both employer and landlord.
"Think of other alternatives that keep you out of managing the employee's personal life," said Spiotti.
With a lack of affordable housing to draw in outside workers, Boucher, Bizier and McCarthy all stressed the importance of providing clear career pathways within their organizations through training, eye-catching benefits and real-dollar incentives for referring potential employees.
"In five to 10 years, it's just a fact, there will not be enough people in New Hampshire to fill the positions that are going to be open across all of our industries," said Boucher. "It's going to be a real tight labor market. In five years we're going to note some kind of change."
One example of positive collaboration was how Attitash teamed up with the AMC to provide cross-benefits to employees. AMC workers are provided with free skiing, as are Attitash employees, who also receive a free breakfast or lunch provided by AMC.
To encourage employee referrals, McCarthy suggested consistency and larger incentives to employees.
"We all know how expensive turnover is, and a $100 or $200 incentive to somebody who referred an employee to you and they stay for at least for 90 days – it's worth spending that money," said McCarthy.
Bizier said at times Attitash has paid $500 for employee referrals, in incremental payments.
"We're competing with retail. We're competing with grocery stores," Boucher said of the available labor pool. "We try to offer things those industries can't."
Boucher's restaurants reward employees with internal "monopoly" money that they can save up to redeem for bonuses as well as incentives such as a night a week where family and friends can dine for a 25 percent discount.
But Boucher noted the most significant boost came from providing his management teams with leadership training outside of work. After the training, his management staff said they felt more capable of directing employees and handling confrontations in the workplace.
"Probably the most important position is the person running the operations because they set the tone and they make things happen," said McCarthy. "If you don't have a good leader running your operations, the chance of filling the lower-level positions is not as strong."