Aerospace, medical applications drive growth for NH materials manufacturer
Spectex expands facility to enhance high performance offerings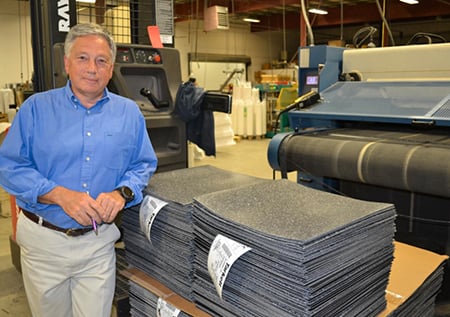 Growth in aerospace and medical applications has driven Spectex, a Rochester-based custom materials manufacturer and services provider, to double its size with the recent move to a facility at 1 Progress Drive in Dover.
President Steve Rossi says market demands for applications are driving a variety of uses for materials.
"I would say that material technology, and I'm talking across all the material platforms that we operate in — whether it's textiles or composite materials or rubbers, silicones, plastics — they're all evolving very, very quickly," says Steve Rossi, president of Spectex. "It's critical for us to keep up with new processing technologies so we can continue to work with these wide ranging, high engineering, content materials."
The Dover facility includes dedicated rooms where Spectex can process specialized materials in a clean, controlled environment.
"This new space is allowing us to sort of create more different kinds of processing segments throughout our facility, especially in the medical safety product lines," says Rossi.
Spectex makes sealed end gaskets used for breathing devices, exhalation and inhalation valve and medical materials used in surgical applications for the medical market.
"We have a lot of rotary die cutting, custom die cutting, slitting, rewinding, so processes that cut in a very technical manner different types of materials into different shapes or tapes or forms," explains Rossi. "It could be anything from gaskets that are used in oxygen generators made of a very specific compound of rubber to a clear lens used on a safety shield, or it could be a high performance textile used in a medical application."
Spectex works with textiles like wool and cotton, synthetic materials like Kevlar, polyester, Nomex as well as silicon rubber material, plastics and other FDA-approved materials.
"We make gaskets that are used in oxygen generators that have to be made of a very specific compound of rubber," says Rossi.
Market outlook
A mainly Northeast-oriented business, Spectex has made some acquisitions that opened business lines to the Midwest and West Coat.
In 2005, the company acquired ERA in Seabrook, a specialized cutting services provider. In 2008, Spectex acquired Booth Felt, a Chicago based textile product line.
"We actually have three distinct geographical areas that sort of have evolved through time. There is definitely a concentration in Massachusetts/New Hampshire/Southern Maine and Connecticut. And some of that business is converting related, which means we're processing other people's material. So in that particular business segment, close proximity to the material manufacturer is critical," explains Rossi.
The acquisition of premier felt supplier, Booth Felt, gave Spectex a customer population in the greater Chicago area and beyond.
"As time goes on, we're growing in every geographic segment of the country, and Tijuana, [Mexico]," says Rossi. "Honeywell is one of our customers and they have a very large facility we supply that used to be in Rhode Island but they have moved their manufacturing to Tijuana."
Rossi says business has been running smoothly, unaffected by steel and aluminum tariffs.
"We read so much about it in the news, and you just from a pure business point of view you'd assume there'd be some impact based on political issues, but at this point there have been none. The business level is looking strong, communication continues as it was."
In fact, "we're seeing some of the rest of our customer base give some consideration or moving to other Mexican locations, so it's something we've been adapting to."