Accelerating NH's workforce
Initiative targets employers' labor needs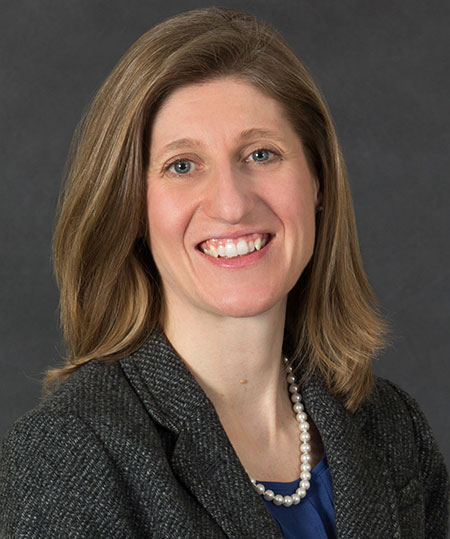 If you haven't met Sara Colson yet, chances are you're about to.
As the Business and Industry of New Hampshire's new director of workforce development, Colson is heading a joint initiative of the BIA and the NH Charitable Foundation to help facilitate workforce efforts and identify and encourage more industry-education partnerships in New Hampshire.
That initiative, Workforce Accelerator 2025, aims to introduce 84,000 employees with postsecondary credentials into the labor market by 2025, in order to meet the projected demands of the New Hampshire economy.
The effort, which is helping to answer the question of how education can better suit businesses' needs, stems directly from discussions at the NH Coalition for Business and Education (NHCBE) following a Georgetown University report that examined each state's workforce needs.
The 2014 report forecast that 68 percent of jobs in New Hampshire will require a postsecondary education by 2020. Today, just over 50 percent of the state's population has a postsecondary certificate or degree.
"In some states, [the Georgetown researchers] approached the governor's office," says Val Zanchuk, president of Graphicast in Jaffrey and past chair of the BIA. "In New Hampshire, they looked around and saw the place where government, business, education and philanthropic people are meeting is the coalition, so they challenged the coalition to delve into the initiative on behalf of the workforce of the state, to see how New Hampshire would approach that."
Recognizing the need to set a more achievable goal, the NHCBE agreed on encouraging 65 percent of the state's 25- to 64-year-old population to achieve a high-quality postsecondary credential or degree by 2025. They then developed the "65 by 25" work group, which set out to identify target populations, develop strategies to increase higher education attainment and build structures to support and sustain a statewide effort.
"At the end of the analysis, it became clear for New Hampshire to reach the '65 by 25' goal, that whole effort needed to be driven by industry," says Zanchuk.
At the same time, the Charitable Foundation launched New Hampshire Tomorrow, a multi-year plan to narrow the opportunity gap between low-income and high-income students. That's where the BIA and the foundation realized the potential for partnership.
"BIA President Jim Roche and I were both at that rollout," says Zanchuk. "Afterwards, I went up to Katie Merrow [the Charitable Foundation's vice president of community impact] and I said, 'You're taking all these kids up through high school and you'll give them career training, but how do you know you're accomplishing anything and following through with that?' I suggested the BIA might be a good partner to make sure all of the work they were doing resulted in people getting jobs and having careers."
Replicating partnerships
Since Colson started her role in January, she has held more than 100 stakeholder meetings.
Colson has started by talking to businesses that have existing relationships with local educators. She plans to highlight businesses working toward achieving the 65 by 25 goal on biaofnh.com/workforce so other businesses and school systems can replicate them.
"My role is to say, 'I've met with someone in the Seacoast area and they're interested in workforce development and want to know more about how to set up an internship program and I know someone else in the Keene area who has been doing that for some time and I'm going to connect them to work through this together,'" says Colson. "Helping to facilitate those conversations is really a key piece of it."
Colson's background makes her a natural candidate to better unite businesses and educators. Starting out as a high school math teacher, Colson later started her own personal concierge business before serving as executive director of the Lake Sunapee Region Chamber of Commerce.
"We operate in silos and some places are doing a great job forming partnerships and other places aren't, because they don't have the time or the resources to commit to it," says Colson. "As a state we'd like to be moving everyone in the same direction because businesses want educators to know what they need, and educators want to make sure they're teaching the skills businesses need. But at the end of the day, everyone's working crazy hours and has a little bit of tunnel vision, or they don't know how to make connections or who to contact. So I think it's important to try to remove those barriers."
Advisory boards
NH Ball Bearings has established relationships with Laconia's Huot Technical Center and Peterborough's Applied Technology Center, which have trained high school students to work in manufacturing through career and technical education programs.
Gary Groleau, corporate manager of labor relations and organizational development at New Hampshire Ball Bearings.
"We have been a partner with the Huot Technical Center's CTE program — one of the biggest in the state — from the beginning, and I mean from the moment they put the stakes in the ground to identify the location," says Gary Groleau, corporate manager of labor relations and organizational development at NHBB. "I'm particularly proud of the pre-engineering and manufacturing programs. We wrote the curriculum, we identified the machines as they went through their capital acquisition process — that they had the same CNC language that we use in our facility so there would be that a seamless transition for students who would come to work here."
But NHBB's involvement didn't end there.
"One of the ways we sustained it was staying on the school's policy advisory committee to stay in touch with their needs," says Groleau. "It's the simplest and most dramatic way to make a contribution — to get on these advisory councils and work with the students and teachers to collaborate on steep challenges. It doesn't take money, it takes insight and perseverance."
At Lakes Region Community College, where Groleau is also on the advisory board, one of NHBB's employees teaches a course.
"It takes deep collaboration to make these things work," says Groleau.
"Businesses have to get engaged," says Zanchuk. "They have to stop griping about the lack of skilled labor because, in today's world, businesses have to be part of the solution.
"It's important for the education community to have some idea of what opportunities there are in the business world and demands of the business world, so they can put what they're teaching into better context," explains Zanchuk.
For decades, students have questioned the value of learning subjects such as algebra. A well-informed teacher could point to an employer nearby and explain how algebra is used in that work setting, and perhaps tie an internship to fulfill the curriculum requirements, says Zanchuk.
Tracking credentials
Ed MacKay, former director of the NH Division of Higher Education, is seeing a shift toward ensuring all students are competent in core skill and knowledge areas, which often can be achieved through partnerships with businesses.
"Our overarching purpose isn't to hit that 65 by 25 target, but we want to put the foundation in place so we can sustain this commitment to earning credentials and post-secondary degrees," says MacKay, a member of the BIA's workforce steering committee.
Val Zanchuk,
president of Graphicast in Jaffrey and past chair of the BIA.
He said that Eric Feldborg, director of career and technical education at the NH Department of Education, "is talking to superintendents, career and technical education instructors and manufacturing reps to see what credentials can and should be obtained in high school to put them on a pathway to a career immediately," says MacKay.
To ensure the Workforce Accelerator 2025 initiative is working toward its goal, Steve Norton, former executive director of the NH Center for Public Policy Studies, will be tracking the metrics and identifying the areas where strategies can have the highest impact.
"The Workforce Accelerator 2025 is a targeted intervention, and we're now more organized and directed than in the past," says MacKay. "Our state is under a two-year election cycle and budget cycle, so we often lurch from biennium budget to budget, and it's hard to secure long-term investments. That's why the BIA and NH Charitable Foundation's three-year commitment is so important."
There is a lot of optimism about the collective power to resolve the state's workforce issues, but there is also an underlying urgency and concern of what could result if stakeholders don't actively get involved.
"The impact of not meeting those goals becomes hundreds of thousands of dollars of tax revenue," says Zanchuk. "How do you maintain a quality of life without the tax revenue? It's really a matter of cultural and economic survival to develop these skills to satisfy the future needs of the state."