A support system for Granite State workers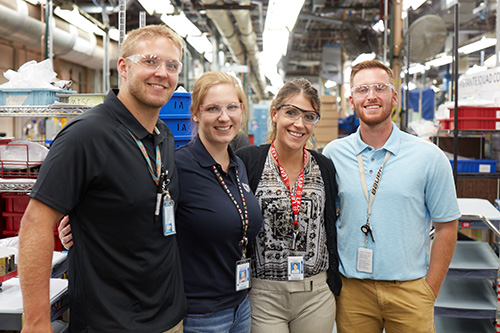 There are a number of resources available to unemployed persons in New Hampshire.
Programs offered by the Opportunity within the Department of Business and Economic Affairs, the Bureau of Vocational Rehabilitation and New Hampshire Employment Security provide a support system for the unemployed as well as businesses seeking to develop their workforce.
Return to work
Individuals filing unemployment compensation in New Hampshire are eligible to participate in Return to Work, a voluntary training program administered by Employment Security. For up to six weeks, for a maximum of 24 hours per week, individuals are trained by an employer while continuing to receive unemployment compensation benefits and conduct a job search during non-training time. Often, an employer will find a skilled employee that they will onboard.
---
WorkReadyNH
For individuals who have been out of the workforce for some time and feel they need some brushing up, WorkReadyNH is a tuition-free program that teaches fundamental and soft skills.
At the end of the program, graduates earn a National Career Readiness Certificate after being tested in three areas: reading and understanding workplace documents, applied mathematics and graphic literacy.
Graduates also will have successfully completed 60 hours of soft skills training taught by top-notch instructors through the Community College System of New Hampshire. The soft skills course places participants in simulated workplace-related settings and covers areas that include:
Job interviews
Workplace safety
Communication skills
Team building & conflict resolution
Problem-solving
Meetings
On-the-job training
Customer service
For more information about the courses, visit www.ccsnh.edu/workready-nh/workkey-assessment
---
Workforce Innovation and Opportunity Act
Unemployed persons that are low income, deficient in some basic skills, have low reading and math scores, speak English as a second language or that have recently been laid off may be eligible for funds under the federal Workforce Innovation and Opportunity Act, which funds training, including obtaining degrees, for high-demand jobs. An employment counselor at any NH Works center can provide more information about individual training accounts. A list of high-demand jobs can be found at www.nhworks.org/uploads/HDO.pdf
Unemployed individuals are encouraged to reach out to one of the twelve NH Works centers across the state to assess state resources available to them.
---
NH Works Job Match System
Think of it like the New Hampshire version of Monster.com. The system features a resume and letter builder to send information to employers. Job seekers can also explore the regional labor market for information such as the average weekly earnings for a position or the fastest growing occupations.
https://nhworksjobmatch.nhes.nh.gov/
NH Works Centers
All offices are open 8:00 a.m. to 4:30 p.m.
Berlin
151 Pleasant Street
Berlin, NH 06570-0159
603-752-5500
Claremont
404 Washington Street
Claremont, NH 03743-2261
603-543-3111
Concord
45 South Fruit Street
Concord, NH 03301-1140
603-228-4100
Conway
518 White Mountain Highway
Conway, NH 03818-4205
603-447-5924
Keene
149 Emerald Street
Keene, NH 03431
603-352-1904
Laconia
426 Union Avenue, Suite 3
Laconia, NH 03246-2894
603-524-3960
Littleton
646 Union Street, Suite 100
Littleton, NH 03561-5314
603-444-2971
Manchester
300 Hanover Street
Manchester, NH 03104-4957
603-656-7841
Nashua
6 Townsend West
Nashua, NH 03063-1215
603-882-5177
Portsmouth
2000 Lafayette Road
Portsmouth, NH 03801-5673
603-436-3702
Salem
29 South Broadway
Salem, NH 03079-3026
603-893-9185
Somersworth
243 Route 108
Somersworth, NH 03878
603-742-3600
---
NH Job Corps Center
Economically disadvantaged individuals that are 16 to 24 years old, or individuals with a documented disability, can partake in a no-cost education and career technical training program administered by the U.S. Department of Labor that helps young people improve the quality of their lives through career technical and academic training.
While living at the center, students are tested for reading and math placement. If they fall below the 8th-grade level, they take academic courses to catch up. Those who dropped out of high school will earn one of two tiers of high school diplomas in addition to a trade.
Trade options include a "hard trade" (advanced manufacturing, electrical or automotive), hotel and lodging (including culinary arts), medical (certified nursing assistant, clinical medical assistant or medical office support) and security and protective services.
For more information, call 603-695-8800.
---
On-the-Job Training
Individuals that are WIOA eligible can participate in On-the-Job Training, a program that helps companies hire unemployed persons by reimbursing anywhere from 50 to 70 percent of the wage rate of the new employee to cover training for up to six months. In some cases, Return to Work and On-the-Job Training can be combined to help workers secure positions.
Easterseals New Hampshire, a nonprofit that provides a variety of community and special needs services, utilized On-the-Job Training to hold onsite ESL courses, teaching work-related English skills to individuals from the Congolese, Bhutanese and Nepalese communities.
---
MY TURN
MY TURN is a nonprofit that receives some funds from the U.S. Department of Labor to operate robust academic and employment training programs for young people ages 14 to 24 in high schools and communities across New Hampshire and North Central Massachusetts.
Hitchiner Manufacturing in Milford worked with MY TURN to develop a program focused on teaching soft skills in the classroom and manufacturing training on the operations floor. Those who completed the program were offered entry-level positions working in the metal cell, metal grinding and in the machine shop.
If you are interested, contact MY TURN's Deputy Program Director Tara Gorski at tgorski@my-turn.org or 603-305-2937.
---
Organization for Refugee and Immigrant Success
ORIS is now a nonprofit organization, but it was initially funded by the U.S. Department of Refugee Resettlement to assist refugees integrating into American culture. ORIS's employment services include assisting refugee clients with resume writing, job searches, applications and interpretation at interviews. ORIS's Youth Programs provide employment opportunities for refugee and immigrant teenagers.
If you need employment assistance, contact Alex Sebantu asebantu@refugeesuccess.org or 603-296-0443.The office is located at 434 Lake Ave., 2nd Floor, Manchester, NH 30103.
---
Vocational Rehabilitation Job Placement Services
For individuals with disabilities, the Bureau of Vocational Rehabilitation can assist with resume writing and job searches, preparing for job interviews, setting up job shadow opportunities and performing a discrepancy analysis to determine if a job is a good fit as well as identify any barriers to successful employment.
A situational assessment is similar to the Office of Workforce Opportunity's Return to Work program where oftentimes a business will hire the individual testing out a position. However, during the test trial, the individual is not paid for the small amount of hours they work since they are also receiving a service by a Vocational Rehabilitation coach, who evaluates their skills and determines how to adapt the position to their needs.
Vocational Rehabilitation also offers services and materials to assist individuals with starting their own business. For information on getting started, visit /content/uploads/data-import/06713737/customerhandbook.pdf
Vocational Rehabilitation Regional Offices:
Open 8 a.m. — 4 p.m., Monday through Friday
Berlin Regional Office
650 Main Street
603-752-2271(V/TTY)
1-888-300-9550
Concord Regional Office
2 Industrial Park Drive
603-271-2327(V/TTY)
1-800-299-1647
Keene Regional Office
The Center At Colony Mill, Gilbo Avenue Entrance
149 Emerald Street
603-357-0266 (V/TTY)
1-800-620-7688
Manchester Regional Office
One Sundial Avenue, Suite 201N
603-669-8733 (V/TTY)
1-800-627-9304
Nashua Regional Office
5 Pine Street Extension, 1st Floor
603-889-6844(V/TTY)
1-800-635-9614
Portsmouth Regional Office
215 Commerce Way, Suite 3
603-436-8884(V/TTY) 2
1-800-882-2744