2016 Business Excellence Winner: Scott Knightly of EnviroVantage
Scott Knightly, owner and president of EnviroVantage in Epping, is the 2016 Business Excellence winner in the real estate and construction category for a small organization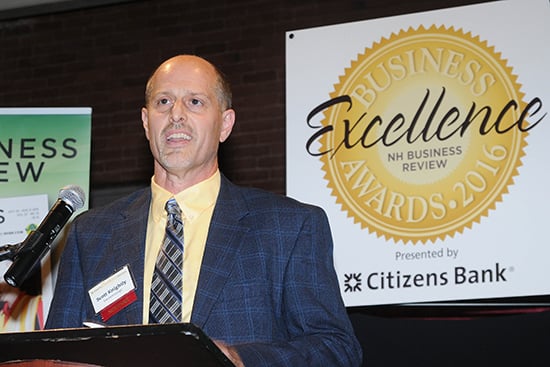 Photo by Jodie Andruskevich
Nominated by: Vera Stroheker of EnviroVantage
Over 30 years ago, when Scott was a student at UNH, he submitted the business plan for what would become EnviroVantage.
Scott foresaw a need to clean up materials like asbestos and lead paint that were once commonplace but are now are known as hazardous.
Scott's professor gave him a B- for the assignment and a notation that "this plan would never work."
It only made Scott more determined to prove him wrong. Starting his business out of a small apartment during his junior year in college, Scott purchased a pressure washer and went door-to-door looking for business. The pressure-washing business grew and customers expanded to include work to overcome home challenges including lead paint, mold, asbestos and other contaminants.
Scott expanded the hazardous materials removal business by purchasing used vans from Continental Cablevision, peeling off their logos with a hair dryer.
Soon, he was moving the business, then known as Seacoast Diversified, to an office in Dover.
At the time, New Hampshire did not have any rules or regulations concerning these contaminants, so Scott worked with a Senate subcommittee in writing the policies and procedures that were adopted and are still in place today.
With his expertise in removing hazardous materials, Scott forged early relationships with government agencies that renovated and restored lighthouses in New England, which led to his company becoming the premier and preferred contractor for the restoration of lighthouses up and down the East Coast.
The company's restoration projects have included many well-known landmarks, including the North Church in Boston, Harvard Medical Building as well as the historic Waterbury Office Complex in Vermont.
Scott acknowledges the biggest moment of his career happened in 2008, when he moved his business into a newly-built, fully functional stand-alone headquarters in Epping, and rebranded the company as EnviroVantage.
By the way, this year is the 30th anniversary of the plan that Scott was told "would never work."
Left to right: NH Business Review Editor Jeff Feingold, Scott Knightly of EnviroVantage and McLean Communications Publisher Sharron McCarthy.