2016 Business Excellence Winner: Mark W. Huddleston of University of New Hampshire
Mark W. Huddleston, president of the University of New Hampshire in Durham, is the 2016 Business Excellence winner in the nonprofit category for a large organization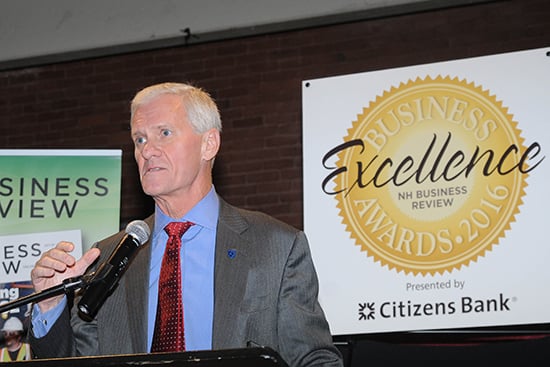 Photo by Jodie Andruskevich
Nominated by: Jim Graham from the University of New Hampshire
Since becoming president of UNH in 2007, Mark Huddleston has led a number of initiatives that have strengthened the university's programs, increased its prominence as a research facility and built relationships with the business community.
Even more impressive, all of this has been accomplished as UNH faced tremendous challenges ranging from a national recession, deep cuts in state support, increased competition and a declining demographic of college-aged students in New Hampshire.
Mark has guided the university community in reimagining and envisioning its path forward, planning strategically and creating historic achievements.
Take a look at UNH's Durham campus, and you'll see a lot has changed since Mark started leading it.
A couple of years ago, UNH built the Peter T. Paul School of Business and Economics, giving students a head start on careers and advanced degrees, as shown by its 96 percent undergraduate placement rate.
The Carsey School of Public Policy opened, providing a space for research, policy education and public engagement in addressing pressing current issues locally, nationally and globally.
And UNH Innovation was launched, providing businesses and entrepreneurs with easy access to the full suite of university research, faculty experts, student talent, technology and facilities.
This success has spread to UNH's Manchester and Concord campuses.
UNH Manchester has expanded into the renovated Pandora Mill building, providing new research facilities, classrooms and interdisciplinary majors.
Formerly the Franklin Pierce Law Center, the UNH School of Law in Concord was established. It now ranks among the top 10 schools in the nation for the study of intellectual property law.
Part of this was accomplished by Mark's efforts to increase private support of the university, which increased by 250 percent since 2011. This year, as UNH celebrates its 150th anniversary, Mark has launched the largest private fundraising effort in the university's history.
Considering UNH is one of the state's top 10 employers, generating $1.4 billion in economic activity, and graduates 3,500 students each year, it's clear Mark's achievements benefit us all.
Left to right: NH Business Review Editor Jeff Feingold, Mark W. Huddleston of University of New Hampshire and McLean Communications Publisher Sharron McCarthy.