2016 Business Excellence Winner: Lucille "Lu" Mulla of Catholic Medical Center
Lucille "Lu" Mulla, vice president of operations, clinical, and emergency services & disaster management at Catholic Medical Center in Manchester, is the 2016 Business Excellence winner in the health care category for a large organization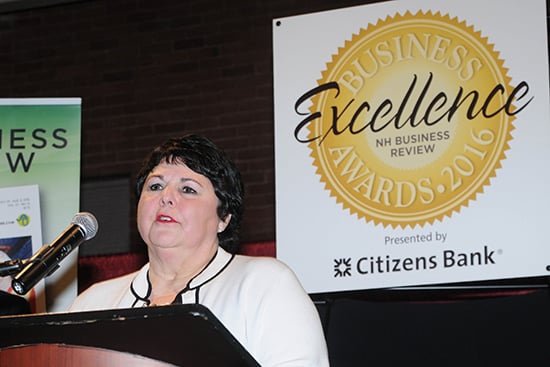 Photo by Jodie Andruskevich
Nominated by: Joseph Pepe of Catholic Medical Center
Lu is the go-to person for many departments at Catholic Medical Center.
She oversees 10 of them, including the Breast Care Center, Patient Transfer Center, and Emergency Department. It is these departments and several others that Lu has helped grow, earn distinctions and operate more efficiently.
A couple of years ago, Lu worked with American Medical Response to establish ambulance service in the North Country to support the Patient Transfer Center.
Catholic Medical Center receives roughly 100 high-risk transfers each month. By also transmitting radiology images to Catholic Medical Center physicians in real time, it ensures there is no wait for critical information.
As her nominator, the CEO of Catholic Medical Center phrased it: "It is in times of crisis that we perhaps most appreciate Lu."
Lu is involved in orchestrating the hospitals response to disaster preparedness drills, such as a mock helicopter crash that was held in 2014. The drills seem authentic enough, with police, firefighters and hospital staff on full alert.
But there are days where the scenarios are real.
In the last six months, Lu has headed up CMC's response to a scabies exposure, the shooting of two Manchester police officers on the West Side and a hospital-wide communications failure. When the Incident Command Center opens, Lu is in charge, skillfully navigating the unpredictable nature of an emergency situation, never losing sight of employees' and patients' safety and comfort.
And it's Lu's relationships that often allow her to place one call to get things done. Her insight and input are valued at the hospital as well as by city and state emergency and public health officials, many of whom she knows on a first name basis.
That's because, even in her whirlwind world, Lu still finds time to pause for those who need a supportive ear and friendly face.
As Dr. Pepe, her nominator, put it: "Lu embodies the compassionate excellence that CMC strives to provide to everyone who seeks our care."
Congratulations Lu!
Left to right: NH Business Review Editor Jeff Feingold, Lucille "Lu" Mulla of Catholic Medical Center and McLean Communications Publisher Sharron McCarthy.