2016 Business Excellence Winner: Edward M. Smith of College Bound Movers
Edward M. Smith, president of College Bound Movers in Nashua, is the 2016 Business Excellence winner in the business and professional services category for a small organization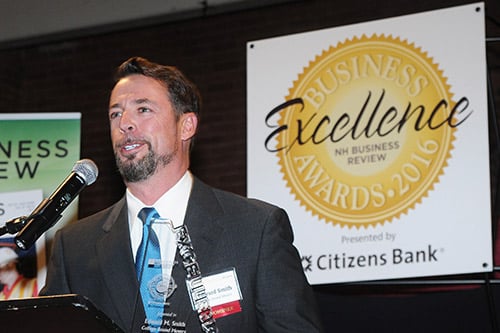 Photo by Jodie Andruskevich
Nominated by: Carolyn Mortellaro of College Bound Movers
Edward's story is the quintessential tale of how a successful company grew from humble beginnings.
At 19, Edward borrowed $80 to rent a U-Haul truck and attain his first client in the business that would become College Bound Movers.
He had a vision to develop a company that helps college students earn cash while at the same time provides customers with a professional service.
The stress of moving is often accompanied with mixed emotions over the new life-changing experience that awaits you. Arriving at your new location with broken belongings doesn't make it any easier, but it happens. The moving industry's average annual damage-claim rate ranges from 14 to 18 percent. Edward ensured College Bound Mover's extensive employee-training program resulted in a damage-claim rate that never exceeded 2.5 percent.
It's that level of service that has resulted in 85 percent of College Bound Movers' business coming from repeat customers or referrals. Since 2000, and even through the recession, College Bound Movers recorded 72 percent revenue growth.
The company has grown to four locations in New Hampshire, Massachusetts and Florida, relocating New England-based households and businesses across the United States, Canada and Mexico. Edward also opened three climate-controlled self-storage facilities in New Hampshire that complement his moving business.
And Edward ensures that his community shares in his success. Earlier this year, he gave a $15,000 gift to Joshua's Park, a project in Amherst that is near to his heart. With Edward's gift, fundraising picked up again, and the fund-raising campaign hit its $400,000 goal.
While growing his business, Edward also has been a single father – an experience that has only made him more compassionate and flexible when it comes to his employees' work-life balance.
As his nominator writes: "Edward is a visionary, a savvy businessman and a problem-solver with a charitable soul."
Left to right: NH Business Review Editor Jeff Feingold, Edward M. Smith of College Bound Movers and McLean Communications Publisher Sharron McCarthy.