2016 Business Excellence Winner: Dr. Thomas Pratt of Chiropractic Associates
Dr. Thomas Pratt, founder and owner of Chiropractic Associates in Manchester, is the 2016 Business Excellence winner in the health care category for a small organization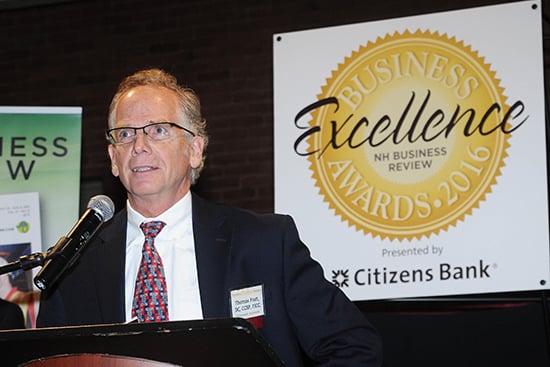 Photo by Jodie Andruskevich
Nominated by: Mary Ellen Hettinger of Write Stuff Writing & Editing
Most doctors treat symptoms of illness – Dr. Pratt promotes overall health and wellness.
A particular focus of his is the impact of stress on the quality of our lives and health. Once a month, he presents hour-long workshops at his office that are open to the public to learn about the causes of stress, how it affects health and how to prevent and treat stress.
A unique innovation at Chiropractic Associates is the "Brain Spa." New patients are hooked up to electrodes in a painless procedure that checks for heart rate, breathing rate, blink rate and muscle response to questions in a simple test.
Treatment includes chiropractic adjustment to correct musculo-skeletal imbalances and calm irritated nerves, thereby correcting signals to the brain. Patients also receive a cranial-sacral massage and a 15-20 minute guided visualization while wearing special headsets.
The headsets include goggles that emit pulses of light to your closed eyes that trigger healing brain waves. By using earphones, patients receive targeted messages and music to induce a relaxation response.
According to the American Academy of Family Physicians, two-thirds of doctors' office visits are stress-related. And the World Health Organization reports 90 percent of illnesses are caused by stress.
Dr. Pratt and Chiropractic Associates recognize stress is part of everyday life. By providing tips and treatment, the practice helps their patients better manage their stress.
With 30 years of experience as a certified chiropractic sports physician, Dr. Pratt specializes in spine and sports-related injuries. He works with athletes of all ages and abilities, including professional skiers and baseball players. Chiropractic Associates is the official chiropractor of the Manchester Monarchs and Stonyfield Yogurt.
Dr. Pratt also is a member of the American Chiropractic Association, and served as president of the New Hampshire Chiropractic Association for eight years.
Helping people heal themselves to not only be well but also thrive is Dr. Pratt's lifelong work.
Left to right: NH Business Review Editor Jeff Feingold, Dr. Thomas Pratt of Chiropractic Associates and McLean Communications Publisher Sharron McCarthy.