2015 Business Excellence Winner: Lisa Guertin of Anthem Blue Cross and Blue Shield in NH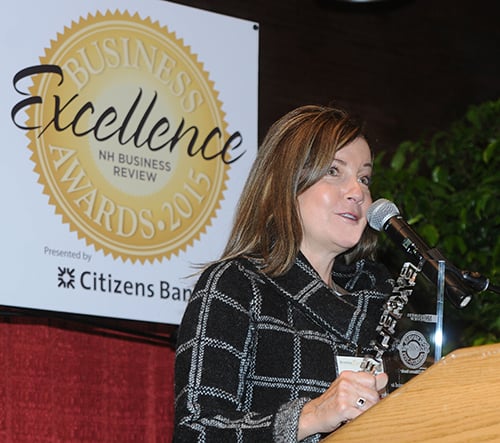 Nominated by: Colin Manning of Anthem Blue Cross and Blue Shield
Over 30 years of experience in different facets of the health insurance industry has provided Lisa with the skills to lead during challenges.
When Anthem was the sole carrier on the state exchange, Lisa worked to develop affordable rates and stability to the market that led to other carriers joining the following year.
Recognizing the need for a broader network, she has worked to expand Anthem's exchange provider network, Pathway, which, in 2016, will include 21 of 26 hospitals in the state, with five hospitals in Maine, Massachusetts and Vermont.
In February of this year, when Anthem was the victim of a highly sophisticated cyber attack, Lisa took quick and decisive action, holding a town hall for brokers and employer groups the day the attack was announced. It was an action that was well-received and copied across Anthem's footprint.
Lisa thinks beyond making simply smart business decisions and focuses on greater communication with and addressing the needs of Granite Staters.
She continues to guide the company and respond to industry changes as Anthem leads the way in innovative provider collaborations and the integration of new technologies.
In fact, Anthem's partnership with the College for America at SNHU was highlighted by the White House as a prime example of employers investing in their adult workforce through partnerships with higher education institutions.
Having been the first generation in her family to attend college, Lisa saw the value of education in rising up in the ranks of corporate America after starting as a part-time employee at Matthew Thornton Health Plan in 1990. Lisa navigated multiple mergers and acquisitions while earning an executive MBA from Boston University and balancing raising a family.
Lisa exhibits excellence not only in her keen intellect and deep knowledge of the insurance and health care industry, but also her impact on her associates and community of New Hampshire.