2015 Business Excellence Winner: John Morison III of Hitchiner Manufacturing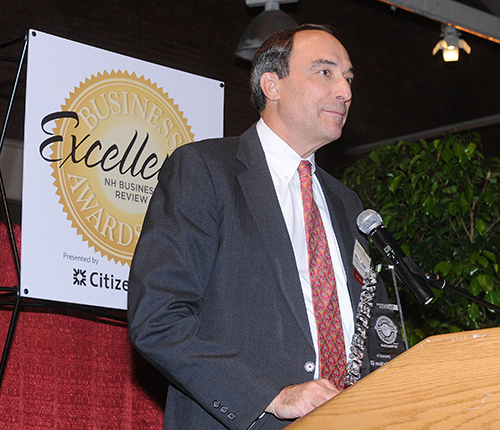 Nominated by: Tim Sullivan of Hitchiner Manufacturing
When John became the third generation to run Hitchiner Manufacturing, he also joined the family business of giving back to the Granite State.
In the 1950s, John's grandfather purchased Hitchiner Manufacturing and inspired a resurgence in business investment in the state. Today, John is making innovations that reduce manufacturing's impact on the environment, supporting college-bound students and taking actions to better his staff of 1,700 employees.
You see, health care isn't a problem for Hitchiner Manufacturing's employees, because there is a facility on site where employees, their spouses and dependents receive care for free.
And Hitchiner helps alleviate some of the cost of college, since it provides over $56,000 in scholarships to dependents of employees and graduating seniors of area high schools. Employees, too, have access to furthering their education at Manchester Community College, Keene State College and UNH.
John is firm believer of giving back to his community in more than one way, and that is why Hitchiner provides over $170,000 to local and state nonprofits every year.
But John's scope is larger than New Hampshire. Like many manufacturers, Hitchiner's major challenges stem from adapting processes that require high-energy consumption and leave behind waste. In recent years, Hitchnier has successfully found ways to go well beyond required environmental compliance.
One initiative reduces emissions from manufacturing ceramic molds by transitioning from an alcohol-based slurry to water-based slurry. Hitchiner is also reducing, and soon eliminating entirely, its chemical cleaning line, resulting in a large reduction of hazardous waste and energy usage.
At the same time, Hitchiner has improved and increased production of parts used in high-end automobile engines, aircraft engines and U.S. defense equipment. This is done with state-of-the-art automated machines, which have taken over manual processes but not a single employee's job.
Under John's leadership, Hitchiner Manufacturing demonstrates everything from business processes to community involvement can be always be improved.