2015 Business Excellence Winner: Jay Gupta of RxRelax and YogaCaps, Inc.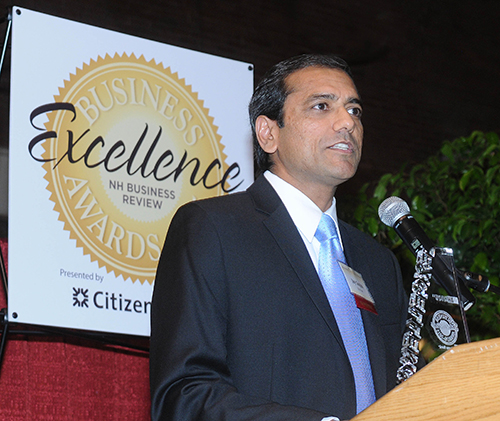 Nominated by: Terry Gupta of YogaCaps, Inc.
Through YogaCaps, Jay Gupta has brought the healing power of yoga to the New Hampshire community. YogaCaps is short for yoga capsule, since Jay believes and has proven that yoga can serve as medication.
In 2006, while working full-time as a pharmacist, Jay and his wife Terry began an eight-week pilot yoga program serving women with breast cancer. Since that time, the program has expanded to nearly every hospital you can think of in the state, and includes people with all types of cancer as well as veterans, seniors and their family and friends.
YogaCaps is 100 percent volunteer powered, and has grown from 2 to over 80 volunteers. Volunteers are recruited to lead weekly classes, help with administrative duties and run the New Hampshire Yoga for Peace event. In its sixth year, over 800 people attended the day of yoga, meditation, song and dance.
But Jay isn't just bringing a therapeutic grade of yoga to those who believed they could never do it, he's helped many people come off of prescription medications for chronic conditions like hypertension, insomnia, pain, allergies, depression, anxiety and vertigo, to name a few.
He is now working with MCPHS University on a clinical trial examining the effects of yoga for people in cancer treatment who are experiencing sleep difficulties. One participant, who had sleep insomnia for 10 years, was able to stop taking his medication and has already been eliminated from the study.
Now, Jay travels nationally, lecturing about the health benefits of yoga. He also started RxRelax, an integrative health institute that uses science concepts to equip health care professionals with yoga techniques for self-care and patient care.
Jay finds it gratifying to see people of all cultures and of all generations practicing and working together to organize yoga events.