2015 Business Excellence Winner: Cheryl Wilkie of Easter Seals NH's Farnum Center & Webster Place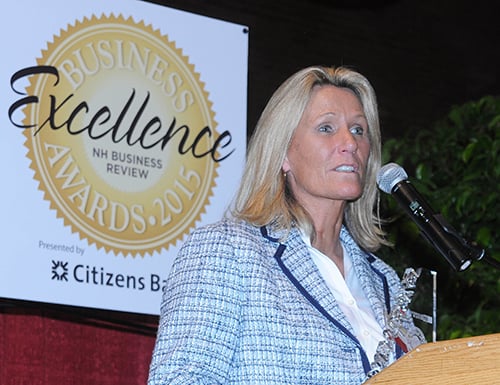 Nominated by: Larry Gammon of Easter Seals NH
Cheryl has dedicated her life to helping people on the road to recovery from drug addiction. Her focus and "life dream" had always been to build a medical detox facility in New Hampshire, a state that ranks 49th in the nation for access to substance abuse treatment.
That's because Cheryl personally knows the importance of these facilities for the individuals they treat. As a young woman, she was fortunate enough to enter a facility that allowed her to not only to medically detox but also handle the emotional pain of recovering from addiction.
That was 28 years ago. Since then, Cheryl started her career in private practice, where over and over again, she would send patients out of state for help because services didn't exist in New Hampshire.
In 2008, Cheryl joined Easter Seals to launch and oversee the treatment and recovery efforts of the newly purchased Farnum Center, then located on Hanover Street. She knew it was important to clean up the facility in order to entice clients to stay in New Hampshire, so she worked with residents at halfway houses to do some painting and general maintenance work.
The financial status of the Farnum Center slowly began to turn around. And this turnaround led to a $1 million campaign in 2012, which enabled the Farnum Center to locate outside of Manchester's inner city that was overrun with drugs and alcohol, and allowed for doubling the number of beds available from 30 to 60. With that move, the Farnum Center became the state's first non-hospital based medical detox program.
Cheryl has been instrumental in improving the Farnum Center and will continue to advance New Hampshire's offerings with new additional property at the Webster Place campus in Franklin, which will become Farnum Center North.
Cheryl's impact truly is seen through the lives she and her services touch. She is leading the way in addressing a serious issue in the Granite State.