2015 Business Excellence Winner: Amy LaBelle of LaBelle Winery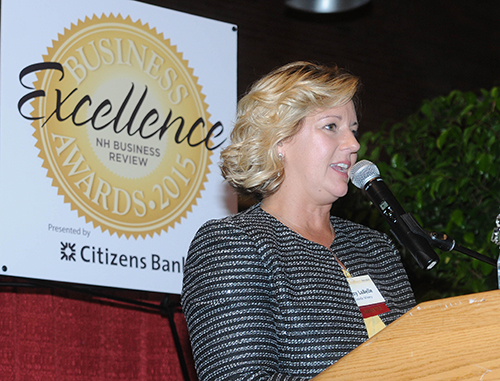 Nominated by: Michelle Thornton of LaBelle Winery
Amy LaBelle took a dream and made it into one of the most successful wineries in the Northeast.
Back in 2001, while working as a lawyer at Fidelity, Amy realized winemaking was her calling after visiting a winery in Nova Scotia.
Learning the formal wine process from books and attending the University of California – Davis online, Amy developed her first batch of commercial wine in 2005 at Allyson Orchards in Walpole. Over a couple years, her wines were selling out, so Amy decided to expand her operation to Amherst, in a barn behind her house. Everyday, after tucking her children into bed, Amy would head out to the barn to make wine.
In 2012, Amy opened the $5 million state-of-the-art winery we know today, working at Fidelity right until the opening. As many of you know, it's a giant leap to start your own business, but Amy's hard work paid off. Over the last three years, LaBelle Winery has grown at the rate of 140 percent per year, and now employs 80 people.
In addition to wine tastings, LaBelle Winery answered customer demands by offering bistro dining, with a full-seasonal menu and opening a second location in the Merrimack Outlets.
Amy has also created a new culinary line named The Winemaker's Kitchen, a line of jellies, spices and other cooking supplements that are used in menu items. She also runs a cooking series of the same name to educate customers on wine pairing, cooking with wine and entertaining.
Amy's commitment to the winery matches her commitment to charitable giving, with her focus on the welfare of women and children. She also supports the Amherst school system lunch program so students will always have a lunch provided.
Amy achieved her dreams while working a full-time job, getting married and starting a family. As one judge commented, "LaBelle Winery and Amy are a perfect example of New Hampshire's startup spirit."