1986 ban on NH nuke waste burial was repealed in 2011
It's unclear who took the action or why it was taken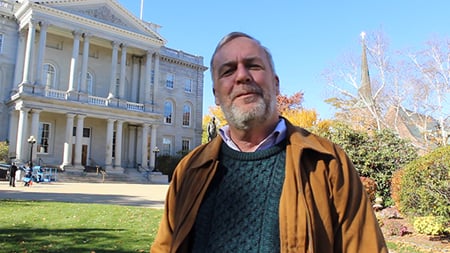 Rep. Renny Cushing was writing 2016 legislation that would charge Seabrook Station $500,000 annually to store high-level radioactive waste onsite when the longtime anti-nuclear activist stumbled across a stunning discovery.
The law that was passed 30 years ago prohibiting an underground radioactive waste dump in New Hampshire had been quietly repealed as part of the 2011 state budget bill.
It was repealed so quietly that it never made the news, unlike the thousands of headlines generated by the 1986 protests that prompted its passage.
"I found out about it almost by accident," said Cushing, a Hampton Democrat.
Cushing co-founded the anti-nuclear group Clamshell Alliance in 1976 to fight the construction of the nuclear power plant in Seabrook.
"There were town meeting votes taken all over the state in 1986 that were opposed to the siting of a high-level radioactive waste dump here," Cushing said.
Voters in 100 towns approved a non-binding warrant article that year that opposed "the burial, storage, transportation and production of high-level nuclear waste in New Hampshire."
"The Legislature got up in arms and decided to be proactive about it" and passed New Hampshire's High-Level Radioactive Waste Act – the one repealed in 2011, Cushing said.
Cushing quickly rewrote his proposed 2016 legislation, which would charge a fee for storing nuclear waste onsite, so it will now include reactivating the 1986 law banning burial of radioactive nuclear waste.
Cushing had asked the Office of Legislative Services to borrow some definitions from the original language from 1986 after he was notified it had been repealed.
Industry conundrum
When the U.S. Department of Energy listed New Hampshire in 1985 as one of a dozen eastern states under consideration for an underground nuclear waste repository, the protests were loud and many.
The DOE was exploring New Hampshire's granite, especially in Hillsborough and the surrounding area, for a second repository. Yucca Mountain in Nevada was to be the first such repository and is still the DOE choice, but the project was never funded.
"There were no public hearings on this repeal," Cushing said. "So New Hampshire has become the first state that's rescinded its opposition to having a nuclear waste site here."
Cushing and other anti-nuclear activists are concerned because there has been no permanent solution nationally on how to dispose of the radioactive waste generated at nuclear power plants.
President Obama's policy has been to select sites only if there is local and state consent.
New Hampshire may be one president and one act of Congress away from the whole siting process being reopened, according to Paul Gunter of Beyond Nuclear.
Gunter, another co-founder of the Clamshell Alliance, said in a telephone interview he is aware that New Hampshire has rolled back prohibition of siting a spent fuel disposal dump.
"It has certainly raised some concern with us," Gunter said.
The DOE and Congress have essentially opened up the search for a high-level radioactive waste deep repository through a blue ribbon commission, he said.
Gunter said the nuclear industry has resorted to economic shortcuts that don't qualify as a permanent resolution for the nuclear waste problem.
Nuclear power plants such as Seabrook are now storing their spent fuel rods and other waste onsite, he said.
"There is this effort under way to accommodate the industry conundrum of nuclear waste being generated without a long-term management plan," Gunter said.
That was never originally contemplated when plants like Seabrook were licensed to operate, he said.
"It does concern us that the politicians in New Hampshire are obviously looking out for industry interests instead of public safety," he said.
Unsolved issue
Several New Hampshire lawmakers said they either don't recall how the 1986 law was repealed in 2011 or insist it was part of a broader budget item that was proposed at the beginning of the process.
It first shows up in 2011 as a simple line in then-Gov. John Lynch's proposed budget.
"224:120 Repeal. RSA 125-G, relative to the high-level radioactive waste act, is repealed."
Republican Peter Bragdon, who was formerly Senate president, said there was nothing secretive about the repeal.
"The repeal was a part of the budget introduced into the House on day one, so it was not some item that was slipped in when nobody was looking. It was there from the beginning," said Bragdon.
Bragdon said the repeal appears to have been part of a revision of the duties of the state Office of Energy and Planning.
"What is not clear to me right now is whether this revision of duties was requested by Governor Lynch or the OEP or was, in fact, an initiative in the House," Bragdon said.
Bragdon said the state's Nuclear Waste Policy Advisory Committee set up by the original RSA 125-G was eliminated in 2009-2010.
"I'm going to guess the federal selection of Yucca Mountain in the late 1980s put an end to any of the committee's work," Bragdon said. "Since there was no longer a committee, it does not come as a surprise to me that the whole 125-G was repealed."
Seabrook spokesman Alan Griffith said he didn't know anything about the legislation and could only answer questions about plant operations.
"All nuclear agencies do safely store their waste at the site," Griffith said.
The repeal also went unnoticed by another anti-nuclear activist in the Legislature, state Rep. Barbara French, D-Henniker. She was a school nurse in 1986 and protested because she was worried about raising her family down the road from a dump in neighboring Hillsborough.
French is concerned that without the law in place, New Hampshire could again become the target of a renewed national repository search.
Thirty years later, there is still no permanent solution on how to dispose of spent fuel, she said.
"The whole issue of storage has not been solved," French said. "And although we were taken off the (DOE) list, who knows what will happen in the future?"
When Cushing told her about the repeal, she responded by asking how she could help.
French agreed to co-sponsor Cushing's legislation that would reactivate the law and charge a fee for onsite nuclear waste storage.
Figuring out what to do with the nuclear waste is critical, she said.
"It's life-threatening, for heaven's sake," French said. "You don't see it, smell it, feel it, or touch it and so you just sort of forget."
Cushing said the waste mostly consists of spent fuel rods and anything else that comes into contact with it.
Nuclear waste is dangerous for many thousands of years, he said.
"The lethality of spent nuclear fuel, I can't get my mind around a hundred years let alone 250,000 years," Cushing said.
InDepthNh.org is a New Hampshire-based nonprofit investigative news website. Nancy West can be reached at nancywestnews@gmail.com.