$1.8 million public-private partnership to fund NH tech startups
Entrepreneurs, BFA launch Millworks II investment effort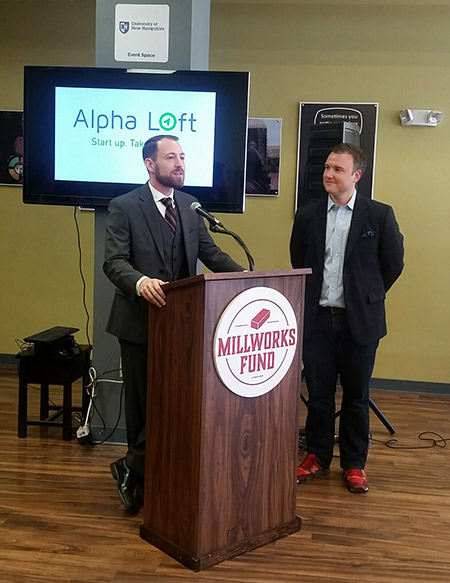 Millworks II, a $1.8 million public-private partnership fund consisting of 40 individual investors and the New Hampshire Business Finance Authority, will provide extra capital for startups in New Hampshire.
The fund was announced by Millworks Fund General Partners Graham Chynoweth and Elizabeth Hitchcock – members of seed stage investment group 10X Venture Partners – as well as James Key-Wallace, executive director of the New Hampshire Business Finance Authority, at Alpha Loft's Manchester office on Thursday, May 4.
Millworks II follows a similar yet smaller fund launched in 2012, Millworks I, that made modest, strategic investments in companies. That fund has been considered successful, with 75 percent of companies invested in are either currently active, have attracted significant additional financing, reached profitability, were successfully taken to exit or are returning capital plus earnings to investors.
Millworks II will provide substantially more funding, with $600,000 each year over a three-year period to fund two programs. Money will be split between the New Hampshire High Tech Council's TechOut winners and top companies participating in Alpha Loft's Accelerate NH program.
TechOut is a startup competition that identifies talented, tech entrepreneurs and funds them through capital awards. Nomination forms will be released this summer for the October event. Accelerate NH provides aggressive training and mentoring to support startups in the state. On May 23, the startups will pitch their companies during Alpha Loft's Startup Shindig.
"Previous TechOut 1, the investments were $50,000 first place, $30,000 second place and $20,000 for third," said Matt Cookson, executive director of the NH High Tech Council. "This year, the first place prize is $200,000, second is $100,000. That's a real boost and that's [a result of] some of the feedback we got from TechOut 1, 'great program, but if there was more of an investment, it would increase the chance of that company to really drive.'"
With support from its board of directors, the Business Finance Authority will provide a two-for-one match on Millworks II investments, contributing $400,000 of BFA investment each year for three years, a total of $1.2 million.
"This also provides a pathway for folks in the accelerator program to graduate from that and get their first round of substantial capital," said Key-Wallace.
"For the Alpha Loft team, this is a big win in terms of our role in the ecosystem," said Mark Kaplan, CEO of Alpha Loft. "This year, we had 25 applicants [for the three-month Accelerate NH program], eight of these in the program right now, five of those companies are in a position where they will be working to convince the panel of judges from Millworks Fund and the general partners that they're worthy of investment. That's very exciting for those five companies."
The 40 investors involved in Millworks II include representatives from development, banking, investment, accounting, legal, health care and high-tech communities – many of them are current or former Dyn employees, including Chynoweth and Hitchcock, who are co-managing the fund.
"With BFA participation, Millworks II has the potential to make an unprecedented commitment to New Hampshire's startup ecosystem," said Chynoweth.
"We are excited that the programs run by NH High Tech Council and Alpha Loft have a statewide reach," said Hitchcock. "Companies from 38 towns across New Hampshire have participated in the TechOut or Accelerate NH program. This geographic reach benefits the state's startup ecosystem by ensuring companies from across the state have access to capital, and investors by ensuring we invest in the most promising companies."