Young professionals build an impressive Manchester network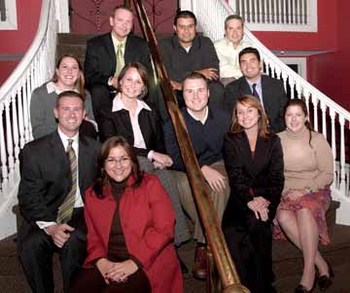 When John Jackman tried to break into the local real estate industry 17 years ago he was surprised by the difficulties he encountered. Although he had the credentials and the ability, he had no connections – a fact that proved to be a formidable obstacle, leaving him with no other option than to accept a job in an industry completely unrelated to real estate.
Fortunately, the position he accepted proved to be the backdoor he needed to eventually establish himself on his chosen career path in real estate.
Today Jackman is the owner of Jackman Commercial Realty in Manchester, his entry into Manchester's real estate world however, proved time-consuming and cumbersome. He also is a member of a year-old organization that works hard to make sure that up-and-coming Queen City area professionals have the tools needed to avoid similar struggles.
The Manchester Young Professionals Network has set out to provide newcomers to the Queen City's business community with professional development opportunities and the opportunity to make the business and social contacts they need to be successful.
The organization, known as MYPN, is the first of its kind in New Hampshire and the only one north of Boston, according to Chris Williams, one of the 11 founding members who brought the idea for MYPN to fruition last fall.
"This group is here to give young professionals what they need to get in through the front door," said Williams, vice president of government advocacy and economic development at the Greater Manchester Chamber of Commerce. "MYPN presents the opportunity for people within our business community to get to know each other, to gather information and provide information and to share stories of struggles and successes."
The group reached its first anniversary with a membership roster of 740 members — rapid growth that has occurred through word-of-mouth and over the Internet.
"That alone speaks to the power of this network group," said Susan Osborne, the 34-year-old owner of Be Day Spa and Image Studio on Commercial Street in Manchester's Millyard.
This year's chairman, Stephanie McLaughlin, gives much of the credit for MYPN's success to the organization's ability to fill a variety of needs in its diverse membership.
"We give people the opportunity but allow them to use it for whatever it is they're looking for," said McLaughlin, director of client development for the law firm of Sheehan Phinney Bass + Green.
'Real' networking
While MYPN originally targeted upcoming professionals between the ages of 25 and 40, actual membership includes people between the ages of 22 and their mid-40s, said Williams, adding that "our members are young at heart not just in age," Williams said.
Although MYPN has its share of young entrepreneurs like Jackman and Osborne, a wide range of industries are represented including banking, law, sales, real estate and the nonprofit sector.
"I can't think of any business in this area that doesn't have someone here," Williams said.
Throughout the year, MYPN hosts monthly social gatherings and bimonthly professional development events. Both are geared toward addressing challenges unique to young professionals and promoting networking opportunities and professional growth. The organization also has introduced a "Better Living" series, giving members the opportunity to explore new cultural topics like wine tasting or art appreciation.
The organization's first bimonthly business event featured a self-made Internet millionaire, followed by such topics as personal finance, purchasing a first home and the Manchester mayoral race.
"The professional development events make MYPN unique in that they are of special interest to young professionals," said Osborne.
Business events are typically held at area colleges or local businesses.
Social events, on the other hand, take place at area hot spots, like Taste of Europe, Vetro Martini Bar or J.W. Hill's Spots Bar & Grille. Cultural centers like the Currier Museum of Art may provide the backdrop for future gatherings.
"These social events are a great way to showcase what Manchester has to offer young professionals. You don't have to go to Boston anymore," Williams said, adding that the social events are kept relaxed — something members like Jackman appreciate.
"One of the hardest things to do is to go up to someone and introduce yourself. This organization has come up with great ways to do that," said Jackman, 43. "The networking is real, it's not just about making the sale the next day, it sets the tone to create long-lasting relationships – both social and professional."
Tomorrow's leaders
While members of MYPN enjoy the benefit of being part of an organization geared to their particular needs, the city of Manchester will be a direct beneficiary of its success according to Williams.
"From a business perspective, Manchester suffers the same problem a lot of other small cities do – brain drain," Williams said. "Young professionals think larger metropolitan areas have more to offer – better-paying jobs, more culture, better night life. We see young people heading to Boston or New York or the West Coast. Now we have an organization that can actively promote what Manchester has to offer."
Changes in the city – everything from improved highway access, airport expansion and the introduction of the Verizon Wireless Arena and Fisher Cats Stadium – have contributed to the quality of life for the young professionals of the Queen City. New restaurants and bars have brought Elm Street alive. MYPN is out to make sure tomorrow's leaders know it.
Keeping young professionals in the city not only adds to today's economic development, according to Williams, it invests in its future well being.
"A lot of our members are in mid-tier positions right now. They're the ones that will be moving up in the next 10 to 15 years, they're the ones that will be leading our businesses and our community," he said. "We want to start building this network now."
For more information about Manchester Young Professionals Network and its upcoming events visit mypn.org.