Work begins on mass timber office building at Pease
72,000-square-foot structure is first of its kind in NH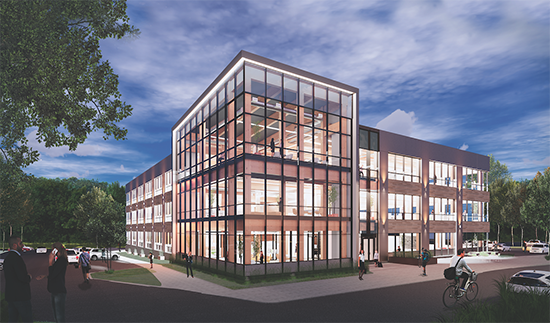 Ground has been broken on 90 Arboretum Drive, the first office building in New Hampshire to be built using mass timber construction.
Developed by Manchester-based Farley White Interests, the 72,000-square-foot building at Pease International Tradeport was designed by SGA Architects of Boston.
The building is the first Class A office building in New Hampshire to use mass timber, the developer said.
Mass timber construction involves use of a load-bearing system in which wood is used as the primary structure as opposed to concrete and steel. According to Nordic Structures, which is the construction manufacturer for the project, wood production emits 30% less carbon dioxide than concrete or steel. And, once the CO2 sequestered in its fiber is counted, wood is actually carbon-negative.
Besides mass timber, the building's HVAC system will use an energy recovery makeup air unit that, depending upon the season, recovers the heat or coolness of the exhaust air and applies it to the fresh air makeup.
The project is being marketed by Cushman & Wakefield, whose Denis C.J. Dancoes II said "sets a new bar for office space, not only here in the Portsmouth market, but across New Hampshire."
He added that "the benefits of mass timber are becoming more and more evident to developers and office occupiers alike; healthier and more aesthetically pleasing buildings with a significantly smaller carbon footprint."