Wind energy efforts in Gulf of Maine pick up steam
Area off New Hampshire, Maine, Mass. coast identified for development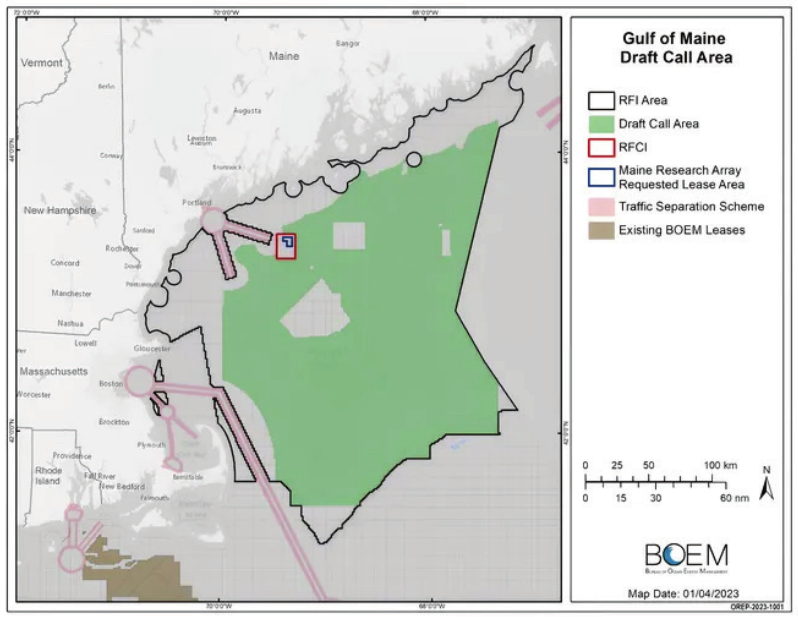 Stakeholders across Maine, Massachusetts and New Hampshire, in partnership with the U.S. Department of the Interior's Bureau of Ocean Energy Management (BOEM), are inching closer to developing offshore wind energy in the Gulf of Maine.
In a series of public meetings last month, including one in Portsmouth, BOEM detailed its progress on bringing the renewable energy source to a portion of the 36,000-square-mile gulf area.
Last August, the Department of the Interior released a request seeking "commercial interest in obtaining wind energy leases in the Gulf of Maine consisting of about 13.7 million acres." Based on input from the request, BOEM joined with the National Oceanic and Atmospheric Administration's National Center for Coastal and Ocean Science to produce a spatial analysis. This led to reducing the potential offshore wind gulf acreage to 9.9 million acres.
The proposed map of the area, called the draft call area, spans roughly 215 miles from its lowest point to the highest tip, per the Northeast Regional Council. It is located about 37 miles east from Great Island Common in New Castle, New Hampshire.
If it is approved and developed, a research array "would consist of up to 12 floating offshore wind turbines capable of generating up to 144 megawatts of renewable energy," BOEM wrote.
BOEM is continuing to review submissions for a request for competitive interest, a step in the state of Maine's process of applying for a lease to conduct research in the Gulf of Maine regarding offshore wind energy.
"Regulations require that BOEM identify whether or not there is competitive commercial interest in any area that is the subject of an unsolicited lease request," the agency previously wrote.
"BOEM invited submission of indications of commercial interest, as well as comments from interested and affected parties."
"If BOEM determines there is no competitive interest for a lease in response to this notice, BOEM will move forward with the research application, which could be used to inform any future commercial offshore wind development in the Gulf of Maine, as well as the deployment of floating offshore wind technology nationwide," BOEM added.
In its application for the research lease, BOEM noted, the state of Maine called for 9,700 acres located within the Outer Continental Shelf, located more than 20 nautical miles off the Maine coastline.
Years-long time frame
Last month's meetings are the latest in regional and federal efforts to bring offshore wind energy to the Gulf of Maine. In 2019, New Hampshire Gov. Chris Sununu requested an offshore wind renewable energy task force for the state, though BOEM founded the Gulf of Maine Task Force with representation from New Hampshire, Maine and Massachusetts.
At the inaugural New Hampshire Offshore Wind Summit last September in Portsmouth, Mark Sanborn, assistant commissioner of the state Department of Environmental Services, said an offshore wind project in the Gulf of Maine is still several years from possibly becoming reality.
Also in September, the Biden administration touted plans to create 30 gigawatts of offshore wind by 2030, which the White House stated could power 10 million homes with clean energy and create over 75,000 jobs.
Examples of offshore wind farms include the $2.8 billion Vineyard Wind Project off of the Massachusetts coastline and the 30-mega-watt Block Island Wind Farm in Rhode Island, which became America's first offshore wind farm when it was created in 2016.
This article is being shared by partners in the Granite State News Collaborative. For more information, visit collaborativenh.org.