Will they stay or will they go?
Real effort to keep young people will cost NH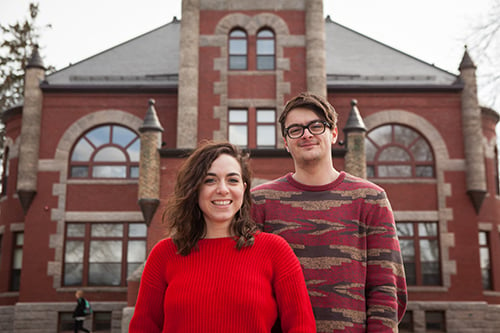 Danny Vasta chose to attend the University of New Hampshire because he had fond memories of visiting his sister there when she was in school, and Durham reminded him of his hometown, Harvard, Mass.
"I like that it's a little town, but it still has a general campus," says Vasta. "I just gravitated to a campus like this, versus a city, because I was use to living in a place like this."
Vasta started as a business major but switched to computer science after his first semester. A summer internship last year at IBM in Littleton, Mass. confirmed it was the right decision. After graduation in December, Vasta will return to Massachusetts. He's already received a job offer from a company in Cambridge and is likely to receive one at IBM, where he'll be interning again this summer.
"I'm not trying to stay in Massachusetts. If I found a company in New Hampshire, I would definitely stay here," says Vasta. "I just happened to find more opportunities in Massachusetts so far."
"The rate of job creation [in New Hampshire] has improved over the last couple of years, but the rate of job creation has been higher in Massachusetts," says Dennis Delay, economist at the New Hampshire Center for Public Policy Studies. Massachusetts also got a head start, recovering a few years earlier than New Hampshire from the recession, he says.
Back in the 1980s, New Hampshire was creating jobs at a much higher rate than the rest of New England, leading to an influx of people looking for economic opportunity, says Delay.
But that's no longer the case, leaving a diminishing workforce in several sectors as baby boomers retire. Now New Hampshire is seeking to retain its own young people, and the first step is getting them to attend college in state.
In 2012, New Hampshire ranked last in the nation for the percentage of students who remain in the state to attend college – 41 percent, according to the National Center for Education Statistics.
But New Hampshire students who do attend college in New Hampshire are 70 percent more likely to remain in the Granite State after college – compared to the 20 percent chance that out-of-state students will stay here, says University System of New Hampshire Chancellor Todd Leach.
Understaffed career center
New Hampshire natives have their social base and family here, plus familiarity helps.
Those were factors for Melissa Proulx of Exeter, who had additional reasons for lining up a job with The Keene Sentinel upon graduation this month from UNH.
"Obviously, being a journalism major, and the primary coming up, I wanted to stay in New Hampshire because I knew that would be really interesting," says Proulx. "Also, just comfort-wise, I've lived in New Hampshire my whole life. I really like the area, so I also wanted to stay in the area for that reason as well."
Proulx completed several internships around New Hampshire – including at NH Business Review – mostly found on her own or through recommendations of professors or past editors she had worked with at The New Hampshire, UNH's student-run newspaper.
UNH surveyed its 2013 graduates and found 54 percent of New Hampshire residents are now working in the state, with 78 percent working in a career that's directly or somewhat related to their major. Of total graduates, regardless of their home state, 40 percent are working in New Hampshire.
"Our students are definitely getting jobs, but I like to wonder what more could we do if we had more resources," says Krystal Hicks, associate director of employer outreach at UNH.
"To say we operate lean is an understatement," says Hicks. "Universities our size operate with three times the staff."
At a conference in Washington, D.C. last year, Hicks met a woman at the University of Virginia's career center whose mouth dropped when she heard how few people tended to UNH's students. UVA had 15 staff members for 7,000 students at one of its colleges, while UNH has six full-time reps to meet with 15,000 undergraduate and graduate students, plus alumni.
"They have people who just focus on outreach. I have to tell my outreach team to stop reaching out to businesses to handle student appointments," says Hicks.
Lack of interview rooms has also posed a challenge for employers seeking on-campus interviews, says Hicks. The centralized career center saw a drop in participants in the 2013-14 academic year, when 114 students and 19 employers participated, compared to 496 students and 56 employers the year before. Some employers did move over to the new facilities at the Peter T. Paul College of Business and Economics, which has its own career center staff.
"There's much conversation about businesses rallying [to retain young workers], but the state of New Hampshire has to be an active participant in this as well," says Hicks. "It's supposedly a big initiative, but it seems backwards right now."
'Less funding today'
In its budget, the New Hampshire House proposes cutting USNH funding to $76.5 million annually, $7.5 million less than the $84 million the system is receiving in fiscal year 2015. Gov. Maggie Hassan had proposed the system receive an additional $13 million over the biennium, a total of $181 million.
Representatives of USNH presented to the Senate Finance Committee on April 15 requesting $205 million for the biennium, which would allow another two-year freeze for in-state tuition and restore funding to 2009 levels. At least $185 million would enable a freeze, forgoing an increase in scholarships. The previous two-year freeze was not fully state funded, says USNH Chancellor Todd Leach.
It was a combination of driving efficiencies, making certain cuts, postponing certain investments and shifting to a self-insured health care plan that saved $10 million a year, he says.
Less than 10 percent of the university system's funding comes from the state, says Leach. The national average is 51 percent.
"New Hampshire has long been underfunded in terms of public education, but it's actually less funding today than it was five years ago – less funding than even 10 years ago," says Leach.
Why? Different budget constraints and priorities, says Leach.
"At one time, the state could better afford to put off investing in higher education, when we had more jobs that didn't require college levels of education and there was more in-migration levels into the state," he says. "That's no longer the case. We've reached a point of real concern for the workforce because at this level of funding, it means it's harder for us to compete to keep students in the state," says Leach, and to keep the workforce competitive.
Sen. Lou D'Allesandro, D-Manchester, a member of the Senate Finance Committee, agrees that the Legislature should focus on relieving student debt, but "the demands of the budget sent to the House are so great" that a freeze in tuition is not possible this biennium.
"In order to freeze the tuition you've got to have an appropriation at least equal to what you got last time," says D'Allesandro. "It's a constant process, and the pressure from your constituents is the cost of post-secondary education," he says.
Economic ecosystem
"We are in deep trouble, and all of the people in the House of Representatives can think about is not spending any money," says demographer Peter Francese.
Francese suggests an initiative focused on New Hampshire's community colleges. In 2013, he wrote there were 150,000 New Hampshire residents between the ages of 25 to 34, yet 40 percent of the men and 25 percent of the women had no education beyond a high school diploma, and thus were likely to have below-average earnings.
The Census Bureau's American Community Survey found a New Hampshire worker with an associate degree earned about $10,100 more annually than someone without one. By just taking some college-level courses, a high school graduate could increase his or her earnings by at least $4,500.
"Ninety-five percent of the people who graduate from community college stay in the state. Those are the people you want," says Francese.
Francese suggests persuading another 15 percent of New Hampshire young men to attend community college, putting them on par with the percentage of women at that educational level in the state.
With more than 11,000 young men earning about $5,400 more per year, that would add $59 million to the state's household income each year.
In her biennial budget proposal, Governor Hassan recommended a $6.5 million increase for the community college system that would allow tuition to be lowered again in 2016 and 2017, making it closer in line to that in neighboring states. The House cut nearly $8 million from the governor's proposal.
State support for universities is also critical to build an economic ecosystem for student startups – in other words, create jobs – as discussed at Alpha Loft's "Universities as Economic Change Agents" roundtable in mid-April, held at UNH Manchester.
"UNH has invested more in the startup community than any other entity over the last three years," says Marc Sedam, managing director of UNH Innovation.
UNH spends less than $120 million on research, with none of the state's appropriation going to research, though the state does pay directly for projects, says Sedam.
The goal of a research institution is to receive at least 10 percent of funds from corporations; UNH's portion is about 8 percent.
At the forum, yet again, lack of state investment cropped up as an issue.
"Local money has to do the first steps and there's zero local money," said a frustrated Tom "TK" Kuegler, co-founder and general partner at Manchester-based venture capital, incubator and consulting firm Wasabi Ventures.
Fifty percent of the companies Wasabi Ventures incubates are run by graduate students said Kuegler.
Through economic development agencies, the state of New York gave Kuegler $400,000 to dole out to in-state startups. But in New Hampshire, all of the money has to be private, said Kuegler, who deemed the state motto "live free and go broke."
Francese made an equally grave prediction: "Until somebody realizes the enemy is ourselves, this rampant stinginess at the state level is going to cripple our economy for decades."