Volume-controlled earbuds are music to parents' ears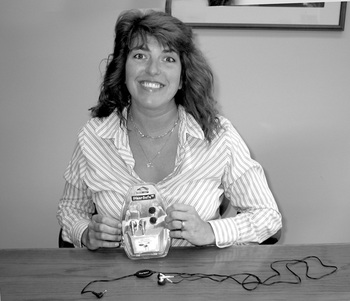 Like so many parents, Christine Ingemi of Amherst got tired of constantly telling her four children, ages 5 to 11, to turn down the volume on their iPods.
"It would be so loud sometimes, I could hear the music through the headphones," she said.
But music is important to her and her family, she said, so she searched for another way to limit the noise without banning her children from their iPods altogether.
She and her husband Rick searched the stores for players or earbuds with a volume control.
"All the kids at the stores can tell you everything you need to know about the technical aspects of all the equipment, but they said they had nothing to reduce the sound," said Ingemi.
Concerned about the effect the high volumes were having on her children's hearing, Ingemi did the next best thing to buying volume-controlled earbuds off the rack — she invented them.
Founded in March 2006, Ingemi Corp.'s iHearSafe earbuds look like any standard pair of earbuds with two small earphones that fit snuggly in the ears — but with one difference. A small volume-reducing circuit is placed in the length of the earbud wire that prevents sounds from exceeding 85 decibels — about the level of city traffic — but still allows ambient sounds through.
"Sounds above 85 db for eight hours or more can result in hearing damage," she said. "Unlike software, which can be deleted, we created something which can't be circumvented."
But more important than just the decibel level, said Ingemi, was the sound pressure level, or SPL, that concerned her.
Sound waves from earbuds move air that has an impact on the eardrum, creating pressure. The louder the sound, the more air pressure, and the harder the impact on the ear.
While Ingemi and her husband have owned a gumball-machine vending business for 15 years, manufacturing a brand new product was new territory.
"The most surprising thing was that no one had developed this before," said Ingemi.
She researched patents by herself and with aid of a patent attorney, and found there were none for the device she had in mind.
"There was so much for me to learn from the design aspect. I knew nothing about this," she said. "How the sound technology works, what kind of design we wanted so kids couldn't pull the thing out. My husband and I went to professors at technical schools to get their ideas of schematics."
Ingemi developed and tested nearly a dozen prototypes of her concept with sound engineers, electrical engineers and audiologists to find one that was easy to use, affordable and, above all, safe.
Once she had a workable design, it took another six months to get production up and running.
"We had to decide if we wanted to start from scratch or go to separate manufacturers for the earbuds, the wiring and the volume controller," she said.
She ended up choosing a manufacturer overseas that could make the entire product.
"They could provide the scale we needed at a price we could afford," she said. The rest of iHearSafe's production is completed in New Hampshire.
So what do kids think of the iHearSafe earbuds?
"They're psyched," she said. "I've been getting messages from kids thanking me for helping them get their iPods back after having them confiscated by their moms for listening too loudly. They're thrilled to find a solution parents and kids can live with."
She said she hopes kids adopt iHearSafe earbuds as part of their music listening routine just like they use bike helmets before riding and seat belts before car trips.
"iHearSafe also helps to train kids' ears so when they hear something louder, they know it's not at a safe level," she said.
Another bonus is that the sound fidelity of the earbuds at the price point of $19.99 hasn't been sacrificed for volume control.
Ingemi attributed the early success of iHearSafe earbuds in part to a number of business service organizations and agencies in New Hampshire, including the Women's Business Center.
"They helped me find resources on how to manufacture, how to market, the legal aspects of making a product, how to get a UPC code," she said. "They walk you through all the stages. If they don't have an answer, they can direct you to someone who does."
Another resource Ingemi contacted was the state's Small Business Development Center.
"Hollis McGuire at the SBDC was an integral part in helping us figure out what steps we needed to go through," she said.
Ingemi also worked with representatives at the International Trade Resource Center, who helped her learn more about working with companies overseas and importing and exporting.
"We had a lot of help from the government resources. Every one of the organizations has been an important part," she said.
She's currently working with the state on becoming a federal contractor to provide iHearSafe to schools and the military and other governmental agencies.
"We're also working with the Department of Resources and Economic Development to see if we can manufacture them here economically, without increasing the price of the product," she said.
While Ingemi's primary target with iHearSafe earbuds is children, they're also ideal for adults who want to listen to music at a safe level.
In fact, Ingemi has also designed noise-canceling head phones for adults that include the volume-control technology.
"We're getting a lot of requests from corporations for these. Workers in factories, for example, can listen to their music at a safe level while reducing the louder ambient noise around them," she said.
Future versions of the iHearSafe earbuds may have the sound-level controller within the device jack itself. An adapter for other size ports, such as those used with airplane sound systems or USB ports, also is in the works.
Ingemi and her family self-financed the entire venture and have been doing all of the order fulfillment themselves. But with growth already an issue, Ingemi is looking to move the business out of her home to an office, possibly in Manchester's Millyard.
Currently, iHearSafe earbuds are available for $19.99 through the Internet at iHearSafe.com and Amazon.com, and soon, through eToys.com, but Ingemi is working with large retailers for broader distribution.
"We've sold over 16,000 units so far," she said. "We're hoping to be on store shelves by Christmas," she said.