UNH, Portsmouth Naval Shipyard team up in research partnership
University also wins $107m NASA contract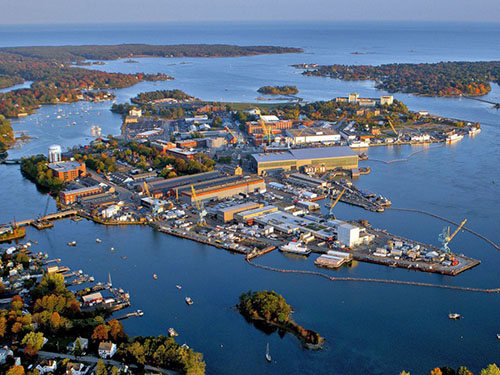 Portsmouth Naval Shipyard has entered into an educational partnership agreement with the University of New Hampshire – its first educational partnership agreement since earning technology transfer laboratory status in 2017.
The laboratory status promotes joint cooperative development programs and business agreements to work with industry and academia to research complex challenges and develop solutions.
"This marks the beginning of a strong partnership that will encourage and enhance study in STEM fields, and allow us to match UNH's high-quality research program to Navy research interests," said the shipyard's commander, Capt. David Hunt. "In this way, we can loan unique and specialized hardware to the university to collaboratively work to deliver boats back to the fleet on-time and continue to develop our talented personnel."
The five-year agreement will allow the Navy to make its scientific, engineering and technology assets and subject matter experts available to UNH faculty to enhance their research activities and the educational experience of students. In turn, the Navy is able to involve UNH faculty and students in U.S. Navy research projects underway at Portsmouth Naval Shipyard.
UNH President James W. Dean Jr. said the partnership "opens a wealth of opportunity for our faculty and students to work with one of the region's largest employers. It will provide research opportunities for our faculty as well as access to knowledge and resources and hands-on experience for our students."
The educational partnership agreement can be used to meet the needs of either organization. It protects the intellectual property, such as inventions, data and proprietary information, of each, officials said.
Meanwhile, in a joint announcement with NASA Administrator Jim Bridenstine, U.S. Sen. Jeanne Shaheen said the space agency has awarded UNH a $107.9 million contract through the Earth Venture program.
UNH was chosen over seven other finalists with its Geostationary Littoral Imaging and Monitoring Radiometer (GLIMR), which will deliver hyperspectral ocean color data that can be used in coastal science, resource management and hazard mitigation, identifying hazards such as harmful algal blooms (HABs), hypoxia and oil spills, the senator's office said. The project is led by UNH Professor Joseph Salisbury alongside major partners from NASA Goddard, Raytheon and Southwest Research Institute.