Uncle Sam expert does research in Mason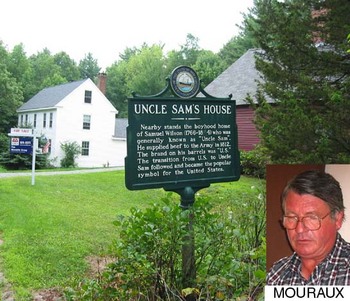 MASON – A large collection of Uncle Sam posters, about 350, is in Sonoma, Calif., and Jean-Pierre Mouraux, the posters' owner, was in town twice in July researching Sam Wilson.
Wilson, who lived in Mason during part of his childhood, was recognized by Congress in 1961 as the originator of the country' symbol, "Uncle Sam."
Among the sites Mouraux looked at in early July was "Uncle Sam's House," a neat red Cape Cod-style house on Route 123. The little house had been built sometime prior to the family's arrival in 1780.
Mouraux said during that visit that if this house was ever for sale, to let him know.
"It is the last house (connected with Uncle Sam) available and we need to preserve it," he said.
The house is now being offered for sale, and Mouraux was back in town last week to look at the house and to do more research.
Mason is one of three places where Sam Wilson lived that Mouraux has visited, he said.
Samuel Wilson was born Sept. 13, 1766, in Menotomy, Mass., (now called Arlington), one of 11 children of Edward and Lucy Wilson. He was 14 when the family moved to Mason.
"There is nothing in Arlington," Mouraux said, "except a statue at the corner of Mass. Avenue, Mystic Street and Russell Street, somewhere near where he once lived."
Wilson, with his older brother Ebenezer, moved to Troy, N.Y., in 1789, among the earliest settlers there. Sam was 23, his brother was 26. They both knew brick making, and by summer had established their business, furnishing bricks for the courthouse and the jail.
From the beginning, they were known as "Uncle Sam" and "Uncle Eb," local terms of affection.
In 1797, Wilson returned to Mason to marry Betsy Mann, who had promised to wait for him. They were married in Captain Mann's Tavern, now the town office building, next to the fireplace that is still in the meeting room.
"Troy is an ugly city," Mouraux said, and little evidence remains of the Wilsons' residence. He found their graves in an old cemetery, he said, "and the weeds were so high I had to mow them down to take a picture."
But he spoke of Troy's history: a city which once used ornamental ironwork extensively, and as "the place where collars were first attached to shirts." Prior to that, Mouraux noted, collars were starched and ironed separately and attached to shirts with collar buttons.
"But nobody there knows about Uncle Sam," he said.
According to the popular legend, Wilson became the symbol because during the War of 1812, he supplied beef for the Army, packed in barrels stamped U.S., one of the first uses of the new country's initials.
Asked what U.S. stood for, a workman said, "Why, Uncle Sam. He supplies the meat for the Army."
Eventually all government property came to be known as "Uncle Sam's."
Wilson died in 1854 at age 88.
"I've dedicated my life to Sam Wilson because nobody knows about him," Mouraux said. "I'd like to put my collection of posters here in his house."
Mouraux, with his wife, Cecile, has lived in California about 25 years, he said, "in the middle of the wine country," noting it was a good place for a Frenchman. He was born in Brittany, where the people are more like the Irish than those in southern France, he said. They lived in several places, including Tahiti, before arriving in California.
His wife operates a "bed and breakfast establishment for pets," he said, while he ran a poster store. Then he acquired his first Uncle Sam poster, the most famous one, a U.S. Army recruiting poster from World War II, shows Uncle Sam pointing outward with the words "I Want You."
He then began his quest for more.
Political cartoonist Thomas Nast (1840-1902), who created the Republican elephant, Democratic donkey and the popular chubby version of Santa Claus, was one of the first to depict the United States as Uncle Sam. Charles Dana Gibson (1867-1944), creator of the idealistic "Gibson Girl," also drew Uncle Sam posters, as did popular illustrator James Montgomery Flagg (1877-1960). Mouraux's collection contains examples from all of them.
A state historic marker stands beside "Uncle Sam's House," but it has not yet been placed on the national Historic Register, according to the town's Administrative Assistant Barbara Milkovits. "No one has completed all the required paperwork."
She and other members of the town's Historical Society are "quite excited about the project," she said.