Top Shelf: New season awaits MS Mt. Washington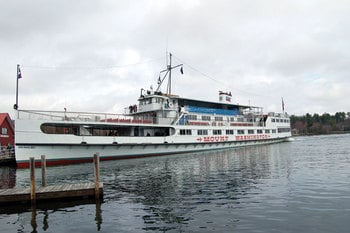 Threatening skies and warnings of high winds were not enough to dampen the spirit of crew and passengers aboard the MS Mount Washington as it left its winter port of Center Harbor on the morning of April 30 for its annual shakedown cruise.
Capt. Jim Morash took the wheel and Capt. Paul Smith took to the controls as the "Grand Lady of the Lake" made her way to Weirs Beach and back during the three-hour cruise.
Engines were shut down, restarted and used to turn the 230-foot ship. Reverse was tested, and rudders were shifted left and right as she made her way through the Broads. On board, fire officials and Marine Patrol personnel examined the ship's safety systems.
In the end, the ship's crew and safety officials determined the grand ship was ready to usher in its 135th season on Lake Winnipesaukee.
This year nearly 200 guests were aboard the Monday morning cruise. Among them Sean O'Kane, new co-owner and president of the Winnipesaukee Flagship Corp. and former commissioner of the New Hampshire Department of Resources and Economic Development.
"You folks are so lucky to be on this voyage," O'Kane said jokingly in his address to the crowd. "(My wife) and I had to buy in to be invited on shakedown."
O'Kane brings with him nearly a quarter-century of experience in the hospitality industry, a passion for the state's Lakes Region and a personal love of sailing the waters of Winnipesaukee – he and wife Terri enjoy time spent cruising the lake on their own 35-foot sailboat.
O'Kane, along with co-owners and fellow shakedown cruisers, Ed and Ingunn Gardner and Captain Morash, now chief operating officer and co-owner, all hope to usher in the 2007 season with a new marketing campaign and programming and a refreshed Web site they believe will generate more interest in The Mount.
Summertime must
While the annual shakedown cruise of the MS Mount Washington may be an invite-only event, the rest of the season promises great times for all who wish to climb aboard.
Although the season officially begins on Saturday, May 19, Moms will be treated first to the traditional Mother's Day Champagne Brunch cruise on Sunday, May 13 (Adults $37 and Children $18).
From May through October the ship will offer visitors the opportunity to explore the state's largest lake – 72 square miles and 44,000 acres – on its daily narrated scenic cruises.
Sunny days bring promises of views of Mount Washington while overcast skies cast a beautiful backdrop against the 282 miles of shoreline where quintessential summer camps and opulent homes sit tucked among the trees.
"You don't have to go out on the ocean to enjoy a wonderful cruise," said Charles Chatterton, an 81-year-old toymaker from Meredith whose cruises aboard the Mount Washington number close to 90.
Visitors can choose from a selection of two-, two-and-a-half and three-hour cruises leaving from Weirs Beach, Center Harbor, Meredith, Alton Bay or Wolfeboro. Prices are $22 and $25 for adults and $12 for children between the ages of 4 and 12. Family tickets and season passes also are available.
Breakfast, lunch and cocktails are available on board, and some cruises feature musical entertainment during July and August.
For lake enthusiasts more interested in nighttime fun than daytime views, the MS Mount Washington also hosts dinner dance cruises. From "Fabulous '50s" and "Classic Country" nights to "Family Party Night" and "Tribute to Elvis," the three-hour cruises put a twist on a typical night of dining and dancing.
While most tickets run $41 or $51 per person, they do range from $25 per person for the "A La Carte Dining" and "Afternoon Delight" cruises (dinner is available but not included in price) to $89 for this year's newly introduced "Wine Dinner" cruise, during which wine experts from some of the nation's best-known vineyards will be on hand to talk about wines selected especially to accompany the evening's menu.
Also new this season is the "Taste of New Hampshire," treating visitors to a dinner made from food grown in the Granite State and complemented by the evening's wine selection.
While most evening dinner cruises leave from Weirs Beach others head out from Alton Bay and Wolfeboro, but it's best to check the schedule prior to booking.
Special events this year include a week dockside from June 11-17, when the region comes alive for Bike Week. While there will be no cruises, The Mount's bar and restaurant will be open with live entertainment.
In the fall the Fall Foliage and Sunday Afternoon Dinner Dance Cruises let folks take in the early sunset against the autumn leaves every Sunday during September and October.
And on Oct. 27, the MS Mount Washington will host a Halloween Masquerade Ball, complete with costume competition and prizes.
Visit cruisenh.com or call 1-888-THE MOUNT (843-6686) to check out the times, ports and events that best fit your hopes for a Winnipesaukee experience.