Top Shelf: Champagne can make every day sparkle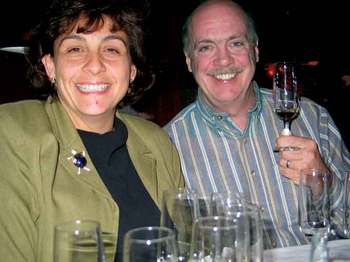 For Top Shelf's most recent tasting, 30 people gathered at the Hanover Street Chophouse in Manchester, Chuck Rolecek's newest culinary endeavor, known for its rich masculine décor and steaks as big as your head. We couldn't have had a more sumptuous venue for this most sumptuous tasting — champagne.
Mike Sommers of Southern Wine & Spirits of New England was our guide to the tiny bubbles.
Champagne can only be called "champagne" if it is from the Champagne region of France. Anything else is sparking wine.
Sommers said Champagne and sparkling wines made in the champagne-style start off as a blend of white Chardonnay grapes and the red grapes Pinot Noir and Pinot Meunier. Red grapes in white champagne? You bet. While the skins are red on the pinots, the juice is white.
What sets champagne or sparkling wines apart from other wines is the double fermentation, otherwise known as "méthode champenoise." After an initial fermentation to create the base wines, the Chardonnay and the Pinot varietals are blended together. Then the fun begins. A mixture of sugar and yeast is added to the base wine for another fermentation. It is this second fermentation that gives champagnes and champagne-style sparkling wines their characteristic bubbles and yeasty flavors, and is called fermenting "sur lies."
The next step is "riddling," which sounds like one of Batman's arch-villains, but is actually the process of tipping and turning the bottle so the yeast sediment flows to the neck of the bottle. This sediment is then removed after several weeks. Another infusion of sugar and wine may be added to complete the wine's desired flavor profile.
Another characteristic of champagnes and sparkling wines is the sugar profile. From dessert-sweet to bone-dry, the wines are termed as sec, demi-sec, extra dry and brut. Sec and demi-sec sparklers are great with desserts and mild cheeses after a meal. Brut wines are best with nibbles that will stand up to its dry character, such as the classic oysters on a half shell, roast chicken, pork or sushi — one of my favorite champagne-food pairings.
I knew this wasn't going to be just any tasting when we Top Shelf tasters were greeted with appetizers of index-finger-long shrimp and oysters on the half shell.
We began our six-sample champagne flight with Chandon Etoile Brut ($23.99 at New Hampshire state liquor stores) from the Carneros appellation of California. Its pale yellow color with a slight touch of green gave a hint of the citrus and apple flavors inside the glass. Nice and yeasty, it was pleasantly dry, and even a little sweeter to my palate compared to the other brut champagnes of the evening. It's a great value and something to add to your "everyday" wine list.
Next was the Perrier Jouet Brut ($34.99) from Epernay, France, the heart of the Champagne district. While there was only about a $10 difference in price, the flavors of the first two wines were miles apart, really reflecting the differences in the growing regions, known as "terroir." More golden in color, this Champagne was just more of everything. It was much drier to me, and had a mineral-like quality Sommers said was due to the chalky terroir. It was also much more yeasty from its longer sur lies fermentation.
While a little too dry for me to drink alone, that mineral character paired beautifully with the Chophouse's exquisite Kobe beef with parmesan cheese sliver. The Champagne made the salty cheese and the succulent beef flavors really pop.
Proving once again that opposites do attract, husband and wife Chip and Lisa Underhill had differing opinions when it came to Champagne's effervescence. While Lisa, a paralegal in the real estate industry, preferred the lesser fizz of the Perrier, Chip, a marketing executive with the Bedford telecommunications firms CTC, really enjoyed the fizzier Chandon Etoile.
"I love bubbles," said Chip. "When I see bubbles, I see energy, and I tend to think of it as a better glass."
For something a little different, Sommers brought a Veuve Clicquot Brut Rose ($72.99), a pink Champagne from Reims, France, a new offering in New Hampshire. A delicate peachy-pink in color, it had a delightful nose of strawberries. Berry fruits were very present in the taste as well a apricot flavors and touch of sweetness for balance. This was one of my favorites of evening.
Sommers said that the pink hue does not come from the red grape skins, but actually from the addition of Pinot Noir after the second fermentation.
I couldn't believe we were then treated to taste our next Champagne, a 1996 vintage Dom Perignon, again from Epernay. Most non-vintage Dom Perignon sells for $110. This one, however, you will be hard pressed to find, since Moet et Chandon, Dom Perignon's house, gave this vintage their benediction of being "Tete de Cuvee," which roughly translates to, "Damn, this is good stuff!" And it is.
Now I've had Dom Perignon before, and, shame on my uneducated palate, but I didn't think it was that great. But this was outstanding, probably one of the most memorable wines I've ever tasted. What impressed me was its balance, a perfect blend of fruit and dryness. It was rich, but not too yeasty.
How to make a fantastic thing spectacular? When this Dom was paired with the Chophouse's appetizer of lobster with avocado, the result was magical.
Needless to say, the 1996 Dom Perignon was probably the hit of the night. If you find a bottle of this prestige cuvee and you've got the change — grab it! If a wine neophyte like myself is impressed, you folks that know something about wine will be weeping.
Also from Reims, was the G.H. Mumm Carte Classique ($29.99). Labeled as extra dry, it was indeed sweeter than the brut-style champagnes and had a nice mineral nose. While certainly good, it wasn't stellar until I paired it with the Chophouse's pan-seared scallop with potato chip. The sweetness of the Mumm perfectly complemented the scallop, and its Chardonnay backbone made the salty potato chip sparkle. This was the best food pairing of the night.
The evening ended on a sweet note with the Moet et Chandon Nectar Imperial Demi-Sec ($35.99) from Epernay. It was sweet, on the order of a good Asti Spumante, but not cloying. Scents and flavors of honey rounded out the subtle bread-dough flavors.
And all this proves that, with such wonderful and often affordable splendor in a bottle, don't save Champagne or fine sparkling wines for celebrations. As Sommers said, "Every day is a day to enjoy Champagne."