Top Shelf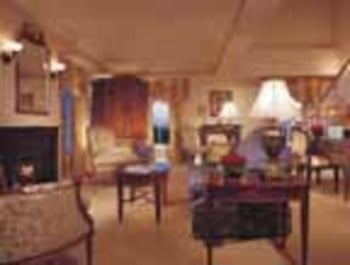 New Hampshire is home to several world-class resorts, and they are as gracious as they are beautiful — at least the parts that mere mortals see.
But what about those of us who are on higher shelves? When (if) Bill Gates or the Sultan of Brunei comes to stay, where do they go? What perks do they get? We bet it's more than just an extra mint on the pillow.
We talked to several Granite State resorts to find out their most fabulous, money-is-no-object packages. And the best thing is you don't have to have 50 paparazzi following you to experience these great escapes.
The Seacoast has never been so sublime than when staying at the Wentworth by the Sea Marriott Resort and Spa (866-240-6313, wentworth.com) in New Castle. For the height of luxury, the Wentworth folks recommended ascending to the highest room in the tallest tower: the Admiral's Suite ($599 per night), a two-level suite in the central Victorian tower of the original building. The suite includes a living room, dining area, fireplace on one level and a king bedroom and Jacuzzi bath with 360-degree views on the upper level.
For the ultimate pampered experienced, spa director Derek Hofmann suggested the By-the-Sea package ($340 per person), 3-1/2 hours of pure indulgence starting with a seaweed body wrap with exfoliation and massage. A facial of ocean-based ingredients imported from France is next, followed by a unique Aqualift masque and a warm seaweed masque on your back.
All those marine-inspired spa treatments might set your taste buds turning to seafood. For dinner, Wentworth executive chef Dan Dumont can prepare a special menu exclusively for you ($200 for two). One possible menu:
• An appetizer of beluga caviar and chilled blue point oysters with sweet white corn cakes and red onion cream
• A salad of poached quail egg, artichoke and yellow fin tuna a la Nicoise
• An entrée of pan-roasted Maine lobster and Hudson Valley foie gras, green apple gratin and black pepper sauce or Kobe beef "two ways," ginger braised short ribs and seared rare tenderloin with Jerusalem artichoke and Yukon potato puree
• A dessert of crème brulee with appropriate finishes.
To accompany the menu, Frank Wetenkamp, the Wentworth's food and beverage director, suggested the following wines: Ramey Chardonnay and Raymond Cabernet Sauvignon. "Not the most expensive," he said, "but the best." At $95 each, they look pretty Top Shelf to us.
The Woodbury Cottage VIP Package ($1,200) at the Bedford Village Inn (800-852-1166, bedfordvillageinn.com) in Bedford begins with overnight accommodations for four in the elegantly preserved Federal-style Woodbury Cottage. It has eight rooms, including a living room, formal dining room, conference room, three distinctive bedrooms and a unique Victorian-inspired "berth," described as a "jewel-box of a room." The master suite has a king-sized canopied sleigh bed, window seat and fireplace. The cottage also includes a full kitchen and smart-wired conference room. Cooking? Working? We think not.
Start the evening with a wine and cheese reception in BVI's notable Milk Room, then enjoy a dinner for four in one of the inn's eight intimate dining rooms. When you return to your room, you'll find freshly baked cookies awaiting you. The following morning, enjoy an elegant breakfast for four on the porch.
Add an optional "side dish" of luxury with BVI's complete luxury bath menu ($42 per person). Unwind in an oversized whirlpool tub with a split of champagne and decadent chocolates while soaking in a sensual bath of scented salts and massage oil. Soothe away stress with eye tea bags with oils of jasmine, cedar, ylangylang and orange. (If enjoying this overnight package with friends, you might have a problem figuring out who gets the tub first — unless you're very close friends.)
They don't call the Mount Washington Resort at Bretton Woods (800-314-1752, mtwashington.com) the "Grand Dame" for nothing. The "Romance in the Mountains" package (up to $779 per person, per night) welcomes you with a bottle of sparkling wine, two keepsake glasses and fresh flowers in the Rooftop Tower Suite. The suite has not one, but two, towers and a rooftop patio with panoramic mountain views, a bedroom, living area and Jacuzzi tub. The Mount Washington offers the Modified American Plan, so your package includes a full breakfast and four-course dinner each day of your stay. After your gourmet meal, take a romantic half hour carriage ride around the property.
If the greens are calling you, book the "Golf in the Mountains" package (up to $815 per person, per night). Eighteen holes of golf per day with a shared cart are included with a complimentary Global Positioning System (if you need this, maybe you should stick with the Romance package instead). Lavish accommodations in the Rooftop Tower Suite and daily breakfast and four-course dinner round out the foursome in this luxury package.
Included with both packages is the Resort Passport: complimentary and discounted amenities, including court time on 12 red clay tennis courts, indoor and outdoor pools, guided hikes and nature walks, culinary demonstrations and more.