Top financial execs to be honored May 14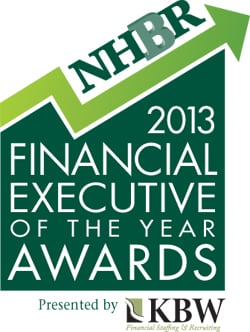 Five executives of New Hampshire firms will be honored at NHBR's second annual Financial Executive of the Year Awards breakfast reception on Tuesday, May 14, in Manchester.
Presented by KBW Financial Staffing & Recruiting, the event honors financial executives in five different categories for their outstanding fiscal leadership and asset management.
Some 30 nominations were submitted, and judges selected five winners who have made significant, demonstrable contributions to the financial health of their organizations and to the greater New Hampshire business community.
The honorees are:
• Large for-profit company: Tim Scullin, CFO, Sig Sauer, Exeter
• Medium for-profit company: Mark Fenske, CFO/Co-Owner, Great NH Restaurants, Bedford
• Small for-profit company: Jody Holt, CFO, Single Digits, Manchester
• Large nonprofit: Michael Wilson, CFO and vice president of finance, New Hampshire Charitable Foundation
• Small nonprofit: Cynthia L. Read, CFO, Granite United Way, Manchester
The event will be held from 7:30 to 9 a.m. at the Radisson Center of New Hampshire in Manchester.
The 2013 Financial Executive Award presented by KBW Financial Staffing & Recruiting are sponsored by: Hampshire First Bank; IMA, the association for accountants and financial professionals in business; CGI Business Solutions; Howe, Riley & Howe; the Business and Industry Association of New Hampshire; and Service Credit Union.
For more information or to purchase tickets for the event, visit www.nhbr.com/financialexecutiveawards.