The streamlined 501(c) application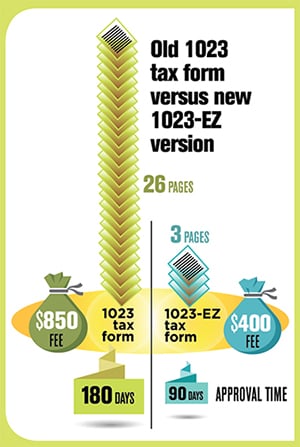 In a welcome change for organizations seeking tax-exempt status, the IRS has issued a new 1023-EZ form.
Unveiled last July, the form saves money, time and paper for organizations seeking charitable status. Cut from a lengthy 26 pages to a three-page form, it's expected that the new shorter form will likely cut legal fees in connection with filing the form at least in half. This is great news for smaller organizations that are likely to qualify for filing the form.
With smaller budgets, any savings in legal costs, as well as staff time and associated fees, is a big boost to the work smaller charitable organizations do. The IRS expects 70 percent of organizations to be eligible to use the new 1023-EZ Form.
In order to qualify to use Form 1023-EZ, an organization must have annual gross receipts of $50,000 or less and total assets of $250,000 or less. In addition to cutting the length of the form, the user fee associated with the form has been cut from $850 to $400.
The IRS expects that the new Form 1023-EZ will shorten the backlog for approval of organizations seeking tax exemption by half – from 180 days to 90 days. In announcing the new form, the IRS said it had more than 60,000 Form 1023 applications pending, with many waiting approval for more than nine months.
If you are an organization that has considered seeking 501(c)(3) designation, the IRS has made the decision much clearer. With a shortened form, shortened waiting time, smaller application fee and preparation fees cut in half, the time is now.
The change means the IRS can now focus its resources on the compliance side of charitable activity rather than reviewing a burdensome form that was unnecessarily complex for both the organizations as well as the agency. And nonprofit organizations can now focus their resources on their philanthropic passion.
Attorney Amy Manzelli, is a member and part-owner of BCM Environmental & Land Law, Concord. She can be reached at 603-225-2585 or manzelli@nhlandlaw.com.