The power of stories
Ideas are the heart of TEDx Amoskeag Millyard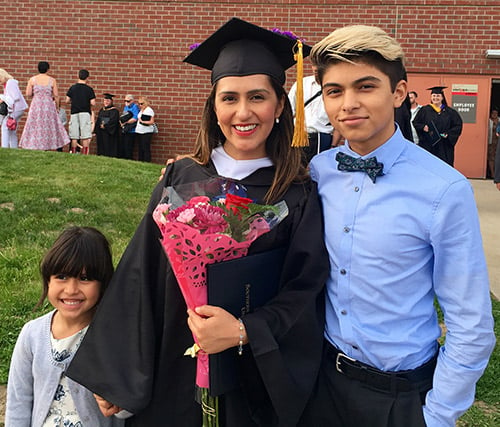 While serving as chief of staff for the White House Initiative on Educational Excellence for Hispanics, Maribel Duran recalls visiting schools across the country and hearing from students: "It's hard to be what you don't see."
The students did not realize Duran herself has overcome great adversity. As a speaker at TEDx Amoskeag Millyard on Saturday, Nov. 12, she will bring visibility to a story that she says is similar to so many others.
Earlier this year, Duran completed her bachelor's degree from Southern New Hampshire University. It was a momentous achievement after attending classes online for three years while working full-time and raising two children.
"I've spent my entire professional career and adult life in the sector of education, but I think it has a much deeper meaning for me," says Duran. "Not only am I a single mom, but I was teen mom, so I had to put my own dreams and aspirations for college aside because I was a parent at 18… The ability to finally finish my undergrad degree – that alone was a validation for the hard work and many, many years it took to get there."
Growing up in a section of Chicago called Little Village, Duran started her career in operations, administration and communications of the Chicago Public Schools – the third-largest school system in the country. When her boss, Arne Duncan, was nominated to become U.S. secretary of education, Duran was asked to take a position as his special assistant in Washington, D.C.
"It was the first time I moved away from home, and without knowing a soul," says Duran. "I said yes. I knew that if I passed this opportunity up, I would always regret it."
Duran served in the role over four years before being appointed to head the White House initiative, a job she held for three years. She's now the chief of staff for the Office of Elementary and Secondary Education at the U.S. Department of Education.
"I didn't advertise for a long time I didn't have a degree. A lot of people didn't know I didn't have a degree and, [when] people learned I was still in school, they were shocked. That's not the norm you see in those positions," says Duran. "I think it was the work I had done, my work ethic and my mentors and the support system I had along the way that helped me get better."
It was while speaking with a former colleague about her career aspirations that Duran first heard about SNHU. She had tried three times before to earn a degree, but was encouraged by the flexibility and SNHU's approach working online with adult students.
"That's why I go back to how it's important to talk to counselors and get guidance along the way," says Duran. In picking her major, she says, "I went from PR to fashion design to communications and back to English. I think through life's journey and through work I became more self-aware and better understood what I wanted to do in life, and I felt English was going to give me the words I had to find to better articulate who I was."
She also said that with the SNHU experience, "I felt I was part of a community and it was real. It made me realize there are so many people with their unique stories, and collectively we worked toward our goal and we were in euphoria, so to speak."
Change of venue
This year's TEDx event, which was previously held in the Manchester Millyard, will be presented at a much larger venue, Pinkerton Academy's Stockbridge Theatre in Derry.
TEDx Amoskeag Millyard organizer Eric Ratinoff.
"Last year, we had to turn people away; we had a waiting list," says Eric Ratinoff, principal of The Mouse and the Elephant, a NH Business Review columnist ("A Seat at the Table") and organizer of TEDx Amoskeag Millyard. The audience capacity has now increased from 200 to nearly 900.
"It's one thing to watch a TED talk online, but definitely a different experience of being in the room and the opportunity to interact with everyone else there," says Ratinoff. "As much as the speakers are the center stage, the experience of being in that audience to share in those talks is really powerful, and we're really excited to be able to offer it to four times as many people as last year."
Putting together the roster of speakers for a TEDx event is "an unbelievable experience," says David Hudson, who helps organize the event. "You can see and feel the interest, how everyone is gripped by the story, their hearts and minds just slightly changing while the person's talking."
TED speakers have up to 18 minutes for their presentation. "It seems to be just right the amount of time," says Hudson. "It forces people to be concise and get to their point, but it's long enough they can develop their idea fully."
An obstacle to overcome
Duran's presentation echoes the theme of a greater need for communication, across communities and within the educational system.
"When we were in Chicago, we established a student advisory board that would come in and advise the CEO at the time of issues they were facing – whether it was violence, education, things at home, cafeteria experience," says Duran. "It was hearing from the students directly that informed the decisions being made. When we moved to D.C., we tried to replicate it. How do we get the voices of the students, the voices of the teachers to inform the policies, the things we're trying to do? We can't be in a room talking about policies never having talked to students in real time about the challenges they're facing."
She recalls visiting one high school in Texas where only three students raised their hands when asked whether they were planning to attend college. No one else had heard of the
Steven Zanella speaks last year at TEDx Amoskeag Millyard about breaking the anxiety cycle through kindness.
FASFA form for federal financial aid.
"You had administrators saying, 'We talked about this before,' and you could see the students say, 'No you didn't,' and it was interesting to see that dynamic play out while we were at that town hall," she says. Duran and her team returned to Washington and designed an online financial aid guide with user-friendly language, targeting Hispanic students and their families.
She says that building trust and authentic relationships with the Latino community is essential.
"I'm over-generalizing, but when you come across first-generation students, higher education is a big unknown for parents. [Counselors] don't only need to talk to students, but it's the family thing. The kids understand the value of college, but the parents don't. They're afraid. They don't know what's out there. If people take the time to build those relationships and communication in thoughtful ways, that would have an enormous impact."
Mainly, she says, it's knowing there is someone who understands them, looks like them and knows the adversity they face.
Duran admits she is nervous about speaking at TEDx, but she looks at it as another obstacle she will overcome.
"It's a responsibility I have for my kids and the many kids in Chicago and other neighborhoods who are looking for someone who looks like them," says Duran.