The home team: Lynch names 25 to shipyard panel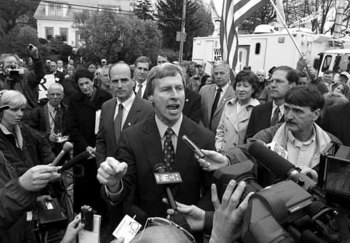 The Save the Shipyard Advisory Team — whose goal will be to help remove the Portsmouth Naval Shipyard from the Defense Department base closure list – has been formed by Gov. John Lynch.
"This is one more step — a big one — that shows the state of New Hampshire is whole-hearted and has serious intentions of supporting the shipyard and getting this horrible decision overturned," said Capt. Bill McDonough, a member of the team.
Lynch selected 25 people — from business leaders to shipyard workers — to put their efforts behind saving the shipyard.
Former state Senate President Bill Bartlett, who recently announced he is stepping down after nine years as chairman of the Pease Development Authority, will lead the team.
Bartlett said the team is made up of "a group of people who understand New Hampshire and understand its economy."
Members of the new organization said their work will not end once the fate of the shipyard is revealed.
"We want to be able to react to whatever comes our way," said Dick Ingram, president of the Greater Portsmouth Chamber of Commerce and a member of the team.
Besides Bartlett, Ingram and McDonough, the other members of the team are:
• Paul O'Connor, president, Metal Trades Council, Portsmouth Naval Shipyard
• George Gantz, chairman, Business and Industry Association of New Hampshire
• Sean O'Kane, commissioner, Department of Resources and Economic Development
• George Nazer, director, Employment and Labor Market Information Bureau
• Dennis Delay, economist, Workforce Opportunity Council
• Maj. Gen. Joseph Simeone, New Hampshire adjutant general's office
• George Bald, executive director, Pease Development Authority
• Mike Delaney, deputy attorney general
• John Bohenko, Portsmouth city manager
• Dana Bisbee, attorney, Pierce Atwood-Seacoast branch
• Richard Flynn, commissioner, Department of Safety
• Senate President Tom Eaton
• Sen. Martha Fuller Clark
• Rep. Jim Splaine
• House Speaker Doug Scamman
• Rochester City Manager Bob Steele
• Bob Preston, former state senator, Pease Development Authority board member
• Dennis Viola, director, New Hampshire State Veterans Council
• State Sen. Richard Green
• Mike Vlacich, deputy chief of staff, Office of the Governor
• Executive Councilor Ruth Griffin
• Ross Gittell, associate professor, Whittemore School of Business, University of New Hampshire.