The economic impact of second homes in New Hampshire
Do seasonal homes boost localities or add to income disparity?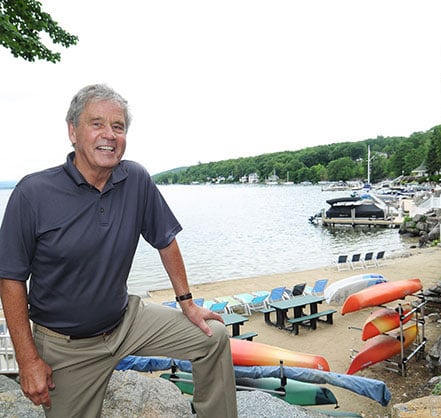 To Frank Roche, a longtime real estate broker in the Lakes Region, the region's second homes "have totally shaped the Lakes Region into a very attractive mecca for the entire Northeast." In fact, he says, "they have had tremendously positive impacts on our state."
Seasonal homes certainly have generated economic activity and population growth that likely would not have occurred without them. At the same time, they have contributed to the aging of the population and disparity of income, which increasingly sharpen differences between the southern and northern halves of the state.
But, as Roche, founder and president of Meredith-based Roche Realty Group, asks: "Where would these towns be without second homes?"
He likens the lakes and mountains of New Hampshire to the Maine coast and Cape Cod, all within hours of populous and prosperous metropolitan areas, all premier destinations for affluent professionals seeking to vacation or retire to a slower pace of living amid attractive natural surroundings with ample recreational and cultural opportunities.
"We're basically New England's playground," he says.
Seasonal homes represent 10.4 percent of all housing units in New Hampshire. Only Maine, at 16.4 percent, and Vermont, at 15.6 percent, have higher concentrations of seasonal homes.
New Hampshire has long been a haven for seasonal homes, which now represent 10.4 percent of all housing units in the state. Only Maine, at 16.4 percent, and Vermont, at 15.6 percent, have higher concentrations of seasonal homes. But measuring the impact of these properties and their owners on the demographic and economic fabric of the state is elusive for want of statistical data.
The Census Bureau counts homes classified as "vacant for seasonal, recreational and occasional use" where they are located. Census data, beginning in 1940, indicates that seasonal homes have amounted to at least 10 percent and as much as 16 percent of the housing inventory in New Hampshire in every census since.
The numbers have grown steadily, from 15,838 in 1940 to 24,184 in 1950, 33,882 in 1960, 44,045 in 1970, 45,884 in 1980, 57,177 in 1990, 56,442 in 2000 and 63,910 in 2010 and reached an estimated 66,103 in 2015.
During five of these eight decades — the 1940s, 1950s, 1960s and 2000s — the rate of increase in the number of seasonal homes outpaced that of the total housing stock.
Highest concentrations
The four northernmost counties of New Hampshire — Belknap, Carroll, Coos and Grafton — account for 46,187, or 70 percent, of all seasonal homes in the state, according to the most recent estimates. Since 2000, the state has added 9,690 seasonal homes, 8,158 or 84 percent of them in these four counties.
Carroll County, where 16,324 seasonal units represent 41 percent of the housing stock, has the highest concentration, followed by Belknap County, with 11,265 units, or 30 percent of the inventory. In Grafton County, with 13,152 units, and Coos County, with 5,446 units, seasonal homes amount to a quarter of all housing.
The highest concentrations of seasonal homes are in the Lakes Region and Mount Washington Valley.
Among the eight municipalities bordering Lake Winnipesaukee, seasonal homes represent more than 30 percent of all housing units in seven of them, topped by Moultonborough, Tuftonboro and Alton, with 60 percent, 53 percent and 45 percent respectively. In Laconia, the lone exception, seasonal homes account for a quarter of the housing stock and two-thirds of all units built between 2000 and 2010. Likewise, between a third and a half of homes in the four towns bordering Newfound Lake are seasonal.
In Waterville Valley, 1,072 of the 1,189 housing units are classified as seasonal while concentrations approach 70 percent near major ski resorts in Lincoln and Bartlett, where condominiums predominate. Seasonal homes represent nearly 40 percent of the units in Sugar Hill and top 35 percent in Conway, Jackson and Madison.
There is much more data available about these properties than about their owners.
The census counts people at their "usual residence," meaning "where they live most of the time," and if their "usual residence" cannot be determined they are counted where they happen to be on April 1 of the year the census is taken. In other words, seasonal homes are counted at one place while their owners may or may not be reported at another.
Studies indicate that those aged between 50 and 64 account for the major share of seasonal homeowners, and close to 60 percent convert their property to primary residences upon retirement.
With a median age of 42.2 years, New Hampshire is the third oldest, trailing Maine and Vermont, and is most rapidly aging state in the country. By the same measure, three of the four northern counties — Carroll at 50.1 years, Coos at 48.1 years and Belknap at 46.1 years — are the oldest in the state.
Drawing from the 2010 census, demographer Peter Francese found that in all four northern counties the numbers of people aged 25 to 44 are dwindling, those aged 45 to 54 are rising slowly and older age groups are accounting for the most growth.
Likewise, the share of households with occupants younger than 18 in the eight towns around Lake Winnipesaukee and the five around Newfound Lake was less than the state average of 29 percent.
Roche notes that the two outstanding features of the seasonal home market are that more owners are spending more time in their homes and retiring to them.
With recreational opportunities throughout the year, he says that "weekend warriors" have been overtaken by those "seeking more bang for their buck by occupying their homes more often." Likewise, he says, "we are seeing more semi-retired and retired residents every year," adding that it is not uncommon for buyers to purchase a small condominium during their working lives and "trade up" to a larger home as they near retirement.
"Lots of our sales are repeat customers," he says.
Roy Sanborn of Meredith-based Distinctive Homes Group and a Realtor who also closely monitors the property market in the Lakes Region, estimates that as many as eight in 10 seasonal homeowners become residents. He explained that while some seasonal camps remained, especially on islands, most have either been converted for year-round living or razed to make way for year-round — and generally much larger — homes.
Seasonal employment
In Belknap, Carroll and Grafton counties, the disparity of income between the rich and poor reached the highest levels among the state's 10 counties from 2007 to 2013.
Income disparity is measured by the Gini Index, which assigns values between zero (indicating absolute equal distribution of income) and 1 (indicating that one person earns all income). With an index of 0.47, Carroll County tops the list followed by Grafton County at 0.46 and Belknap County, where the index jumped 10 percent, twice the pace of the state as a whole, while the index in Coos County matches the state average of 0.43 percent.
As Laconia economist Russ Thibeault explains, shrinking employment and stagnant wages, which together reduce the relative share of income returned to those at lower quintiles of the income scale, are major factors in widening income disparity. However, aging populations are also associated with widening income disparity.
Beth Mattingly of the Carsey School of Public Policy at the University of New Hampshire, who authored a report on the growing income gap, acknowledges that as the influx of young families has diminished and the outflow of young people has increased, the rising number of relatively affluent seniors has contributed to increased income disparity.
Furthermore, Mattingly notes that in regions with high concentrations of seasonal homes — most of which are also popular tourist destinations — the hospitality, retail and service sectors, all known for relatively low wages, offer the largest share of employment opportunities. She adds that since the number of visitors and residents ebbs and flows with the calendar, seasonal employment is common.
In Laconia, the proliferation of seasonal homes at The Weirs — where cottage colonies have converted to condominium units — has changed the character of the resort. The turnover and traffic of summer visitors has slowed, diminishing patronage of the traditional attractions, among them two water slides that have closed. Meanwhile, hoteliers and homeowners have looked askance at proposals to bring more nightlife to the area, some even remarking "we sell sleep."
Perhaps the most profound impact of seasonal homes falls on the final capacity of the municipalities where they are most highly concentrated. Take, for example, Alton, with its extensive shoreline on Lake Winnipesaukee, and Barnstead, home to four lakes.
With a population of 5,295, Alton has 4,400 housing units, of which 1,926, or 45 percent, are seasonal homes. Barnstead has a population of 4,602 and 2,395 housing units, 516 of them, or 22 percent, are seasonal homes. The total assessed valuation in Alton is $1.57 billion compared to $432.5 million in Barnstead and its tax rate of $14.15 per $1,000 of valuation is little more than half the $27.25 in Barnstead. In other words, $1 of property tax rate raises more than 3 1/2 times more revenue in Alton than in Barnstead.
In Moultonborough, with its 66 miles of shoreline, the census counted more housing units, 4,985, than residents, 4,025, and 3,000 of them are second homes. With a total assessed evaluation of $2.8 billion, the tax rate is $8.74.
As the assessed valuations of towns with significant concentrations of seasonal homes suggest, a robust market exerts upward pressure on house prices and land values in those communities.
A study of the second home market in Eagle County, Colorado, concluded with a dilemma: "second homes are not a residence, but an industry creating a demand for workers" and "second homes drive up property values, including residential housing for workers."
Roche discounts the effects of aging and affluence, stressing instead that the influx of seasonal homeowners and retirees has enlivened commerce in the region.
He says that the construction, furnishing and maintenance of seasonal homes has employed contractors, tradesmen, surveyors, Realtors, bankers and attorneys. Seasonal residents also stoke demand for a variety of goods and services and provide patronage for entertainment venues like the Bank of New Hampshire Pavilion in Gilford, Flying Monkey in Plymouth, Winnipesaukee Playhouse in Meredith and others. Drawing on seasonal residents, Gunstock Mountain Resort, once a ski area, has become a year-round recreation facility.
As Baby Boomers retire, Roche expects New Hampshire will remain a popular destination for those seeking a home for vacations or retirement. And he believes that many of those young people now leaving the state to seek their fortunes will be among those who return to enjoy the fruit of their labor.
"We're like birds," he says. "We migrate to the place where we grew up."