Suspect under heavy security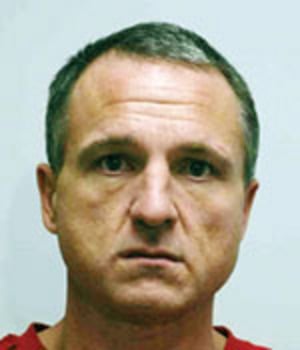 NASHUA – Peter Gibbs doesn't appear to be going anywhere, if his most recent court appearance is any indication.
Hillsborough County Sheriffs kept Gibbs on a short leash – more or less literally – and under unusually heavy guard as he reappeared in Nashua District Court for the second time since his brief escape last week.
Gibbs, 43, of Nashua, has spent nearly half his life behind bars, and he is likely to stay imprisoned for the remainder if convicted on the current crop of charges against him, stemming from two alleged home invasions in the city last winter.
Gibbs had been scheduled to appear in Nashua District Court on Aug. 11 for a probable cause hearing on the first of the two home invasions. Before the hearing, however, Gibbs is accused of fleeing the court after assaulting a guard and slipping one of his ankle shackles loose. Police tracked Gibbs after a brief but intensive search and arrested him after he jumped into the Nashua River.
That hearing was rescheduled and took place Tuesday instead. Gibbs appeared in court wearing the orange uniform of the Hillsborough County jail and shackles on his wrists and ankles. An unusually large number of guards – two uniformed sheriffs' deputies and four bailiffs – stood surrounding him during the hearing, and a deputy sheriff held onto the back of the leather belt around his waist while leading him back out of the courtroom.
Sheriffs have yet to file escape and assault charges stemming from Gibbs' escape, and Nashua police on Tuesday dropped the resisting arrest charge they'd filed after his escape.
That one misdemeanor seemed insignificant next to the robbery, burglary and weapons charges pending against Gibbs. Gibbs or his friends and family would have to post $210,000 bail – more than half of it in cash – to free him while he awaits trial in Hillsborough County Superior Court.
Excepting a fleeting hour during his escape, Gibbs has been in custody since March 17, when police in Maine found him in a van that had been reported stolen in Nashua. The day before, police charge, Gibbs and another man allegedly broke into a home on 12th Street in Nashua, confronted a resident at gunpoint and tied him up with Christmas lights and tape, and stole coins, gold, cash and other valuables.
Nashua police already were investigating Gibbs and Mark Grandmaison of Nashua as suspects in an earlier home invasion.
On Dec. 24, 2007, police charge that Gibbs broke into the home of an elderly man on Merrimack Street and stole $17,000 and two firearms.
In both home invasions, Gibbs allegedly told the residents he was a police officer, though he had no uniform, badge or other identification to back his claim.
Police never found the two handguns Gibbs allegedly stole during the first home invasion, Detective Daniel Mederos testified Tuesday, but they recovered many of the coins and collectibles stolen in the second robbery, according to police reports filed in court.
Neither home invasion victim could identify Gibbs' photo, police reported, but Gibbs later bragged about both home invasions to a cellmate in Maine, who contacted Nashua police to talk about it, Mederos said.
Gibbs and Grandmaison also had bragged about the Dec. 24 home invasion to acquaintances in Florida, one of whom gave a statement to police in that state, Mederos testified.
After questioning Mederos, Gibbs' lawyer, Carl Olson, argued that police had only second-hand "hearsay" from shady sources with dubious motives to link Gibbs to the first home invasion.
"The one person who had the clearest look, the best look at the perpetrator in this case, when given the opportunity . . . was unable to identify him," Olson argued. "What we have here is rumor and innuendo."
Judge James Leary had the last word, however.
"I disagree," Leary said, and ruled that police had in fact gathered ample evidence to justify holding Gibbs while his case is referred to superior court for further, felony prosecution.