Substitute teacher shortage strains New Hampshire's school districts
Not having enough subs can have an impact on student outcomes and teacher wellness, educators say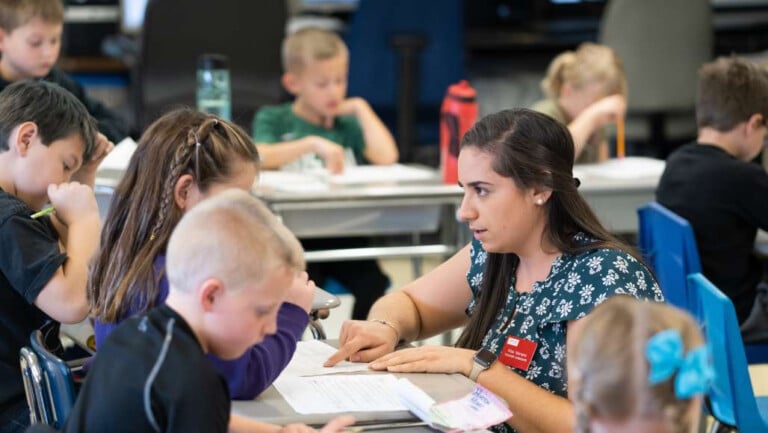 When Kimberly Bleier or one of her three children wake up not feeling well, Bleier is "instantly in panic mode," thinking not about their health, but about her students at Concord High School.
Bleier, who teaches social studies in grades 9 through 12, knows that if she can't go to school, one of three things will happen. Ideally, a substitute teacher will be called in for the day. But that's uncertain due to an ongoing substitute teacher shortage. More likely, colleagues will forgo their prep periods to cover her classes. Rarely, if lots of teachers are out, there's what Bleier calls a "warehouse situation," where one adult oversees multiple classrooms of students in the cafeteria or another area of the school.
Even if a substitute is available, Bleier knows her students won't get the same education they would from her. In New Hampshire, there is no certification for substitutes and these temporary teachers need only a high school diploma or GED.
"You can't expect a sub to truly teach," Bleier.
All of those considerations can leave Bleier torn between what's best for her health and what's best for her students.
"It's incredibly stressful when you're trying to make the decision whether or not you're going to call out," she says.
Even before the pandemic, about one in five requests for substitutes were unfulfilled nationally; educators say it's gotten worse since then.
Day to day, the role of substitute teachers may seem insignificant, but the impact of substitutes and the shortage of them adds up. Students will spend roughly one academic year, on average, being taught by substitute teachers as they make their way from kindergarten to 12th grade. Each day, about 8 percent of teachers are absent, according to national data. Filling those positions is a constant strain on school systems, educators say — one that has become more taxing over the past three years. It can even keep teachers from accessing high-quality continuing education programming that would require them to be out of the classroom, says Kimberly Rizzo Saunders, superintendent of the Contoocook Valley (ConVal) School District .
On any given morning, principals and administrative assistants in the Monadnock Regional School District scramble to fill vacancies, said Jeremy Rathbun, assistant superintendent of the district. When substitutes aren't available, paraeducators or reading specialists are pulled to sub, sometimes leaving their own roles uncovered.
"In the end, we're just pulling from one place to the other and figuring out where the hole is going to be for the day …," Rathbun said. "Every day [it's a] really tough situation and it takes a lot of time."
Constant concern, limited solutions
Finding substitute teachers has always been challenging, educators say, but the pandemic has made it more so. Not only did many teachers retire or leave the profession, but chronic teacher absenteeism increased at 74 percent of schools in the Northeast.
Just as more subs were needed, fewer were available, educators say. Some substitutes were wary of being in the classroom while others took advantage of low unemployment to find full-time jobs with benefits, educators say. This shortage not only affects teachers, but also nurses, paraprofessionals and other school positions that need to be covered when someone is absent.
Schools have had no choice but to adapt, filling vacancies as best they can.
"It's a constant issue, and sometimes with constant issues you learn to live with them," says Rathbun. "It doesn't feel as critical as it probably is."
One of the most effective ways to attract substitutes is to raise pay, educators say. Nationally, short-term substitutes who work day-by-day earned $14.47 an hour on average. In New Hampshire, they're usually paid a day rate, often between $100 and $125 per day. Last year, the Berlin School District, the ConVal district, Manchester School District and Monadnock Regional School District all raised their rates for substitute teachers, administrators said. ConVal also implemented a referral program through which staff can earn money by referring substitute teachers, said Rizzo Saunders.
Some districts saw an increase in applicants, but others didn't. All are still hiring, and have found that money isn't a quick fix for the shortage.
"We feel like we're competitive with money, and we're still struggling," Rathbun said.
In Berlin, many people see substituting as a temporary job, says Debbie Payeur, human resources administrator for the district.
"They don't last at the position," she said. "They move on to more permanent things."
That's not always a bad thing.
"Sometimes you find these diamonds sitting there," said Jennifer Gillis, superintendent of the Manchester School District.
When Gillis spots a substitute who has a knack for education, she tries to bring them into a more permanent role as a paraeducator or support them in getting a teaching certificate. While that's beneficial overall, it underscores the temporary nature of substitute teaching jobs.
Some districts have tried to address that by hiring permanent substitutes, sometimes known as building subs. These positions are full-time and offer benefits and predictability, said Michele Garon, director of human resources for the Concord School District. Substitutes become familiar with the students, administrators and policies within a school, even if their roles vary each day, educators say.
"These folks come in in the morning, and they may be a 3rdthird grade teacher or they may be a phys ed teacher," she said.
The Berlin district created four permanent substitute positions in recent years, but has only been able to fill one of them, Payeur said. ConVal had permanent substitutes in the past, but ultimately decided they weren't a good fit for the school system, said Rizzo Saunders. The Monadnock district has considered permanent positions, but has not yet taken steps to create them.
"It's a big conversation that just hasn't happened, and a big change of approach," Rathbun said.
When no substitutes are available, administrators turn to the teachers who are already in their buildings. Teachers have student-free periods, known as prep periods, built into their schedule. Under many collective bargaining agreements in the state, teachers are compensated for teaching during those periods that they normally wouldn't have any students. As more teachers are called on to sub, those clauses are becoming increasingly common, said Megan Tuttle, president of the New Hampshire chapter of the National Education Association, the state's largest teacher's union.
Bleier, the Concord teacher who worries about being absent herself, often picks up these jobs to boost her income. While the additional money is welcome, "it's tiring," she said. However, she believes it helps keep students on track, especially when she's covering for other social studies or English teachers.
"There's a level of respect that comes from the class when they know you're a certified teacher and you're subbing," she said.
These articles are being shared by partners in the Granite State News Collaborative. For more information visit collaborativenh.org.