Social media effort seeks to make manufacturing a little more hip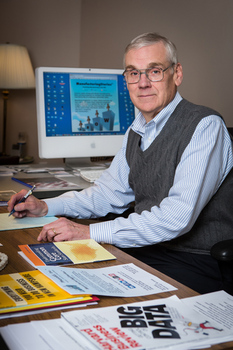 David DeWitt recommends watching a video called "Metal & Flesh." This video, which uses words like "innovation" and "invention," shows a wounded warrior walking again. There's even some heli-skiing. As the video plays, a bed-headed hipster with a soul patch comes onto the screen talking about, of all things, manufacturing.
DeWitt wants to obliterate the image people have of manufacturing. Gone are the gray days of humdrum assembly. Instead, he says, today's manufacturing is high-tech, requires interest and skill and even goes a long way to contributing in significant ways to society.
To prove his point, DeWitt has launched Manufacturing Stories, a Peterborough-based social media company promoting manufacturing in the United States.
"The primary focus is to be there for parents, students and educators, because there's a lot of other websites out there about manufacturing that are more technical, for technical people or for industry people," he said. "And my focus was let's try to get this information to the people who need to know it the most."
His goal is to transform thinking about manufacturing as the wagon wheel of career opportunities, turning it into a hip, interesting and viable option.
He also wants to emphasize and strengthen the link between manufacturing and education, primarily in the K-12 Career Technical Education (CTE) and Science Technology Engineering and Math (STEM) fields.
To that end, Dewitt is creating a website, slated to be up and running by January, that will feature a searchable database of information and resources relating to manufacturing, both in New Hampshire and nationally.
Online offerings
"We all know that there are good things happening where we are partnering business with education, but we don't know what they are," said retired Claremont School District Superintendent Jacqueline Guillette. She, along with Scott Pope, an instructor at the Sugar River Valley Technical Center in Claremont, developed a curriculum for the hands-on program that allows local high school students to get into the factory at Whelen Engineering in Charlestown.
"We don't have a central clearinghouse or place to go," she said. "And if I had an idea and I wondered if anyone else in New Hampshire has tried this kind of idea — I have a good network myself, but no central clearinghouse, which is what I picture Dave's website will be ultimately."
Added Guillette: "That ability to put me in touch with somebody who's thinking in a new way about a problem that we share is to me, just one of the great uses of our technology today."
In the meantime, DeWitt has created several online magazines about manufacturing through Scoop.it, launched pages on Facebook, Pinterest, LinkedIn, a channel on YouTube and a Twitter feed, where he posts articles and videos relative to the advanced manufacturing workforce and education.
"We're building a relatively good inventory of videos, of things that kind of make manufacturing look exciting and interesting and kind of action-oriented, because that's what kids like," said DeWitt.
Retirement project
Once it is up, the website will feature the resources database, a section featuring stories that visitors could find interesting about advanced manufacturing. The hope, of course, is that young people will check out the videos and articles on social media and start sharing the message with their friends through the same channels.
DeWitt has been involved in manufacturing since he was 8 years old — every Saturday he'd go to the factory to work, mostly because, he said, he liked spending time with his father. Manufacturing Stories is his retirement project.
He went on to pursue a manufacturing career of his own, earning a degree in mechanical engineering from Rensselaer Polytechnic Institute. He went on to work for Millipore in Jaffrey for 14 years before starting his own manufacturing company, Time Frame, a wholesale manufacturer of color graphic components for awards and promotional products, in Peterborough.
He sold the company late last year and decided to retire, but he couldn't stay away from manufacturing for too long. In January 2012, he launched Phase65 Inc., the parent company of Manufacturing Stories.
DeWitt said he started the company after hearing stories of how advanced manufacturing jobs go wanting for lack of a skilled workforce. He said he figured if kids in middle school and high school were aware that it could be a good-paying and viable career path, then they would start preparing and getting educated for these jobs.
For more information, contact DeWitt at ddewitt@manufacturingstories.com, find Manufacturing Stories on Facebook, Twitter, LinkedIn, Pinterest, YouTube or — beginning in January — visit the website ManufacturingStories.com.