Signs of the times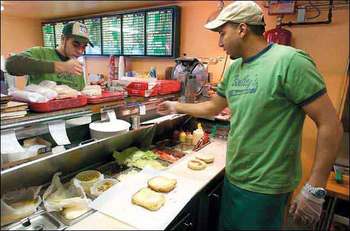 After about 10 years in business, Mike Couturier is closing Hi Fi Exchange, a shop specializing in old record albums and vintage stereo equipment.
Couturier's is one of numerous small businesses that run along the Amherst stretch of Route 101A in plazas arranged like small villages of adjoining shops.
In their midst are some retailing giants, including Wal-Mart. A new Lowe's is due to open on Route 101A near Truell Road, between Winchendon Furniture and Seasonal Specialty Shops. And Staples is building a store next to Lowe's, according to Amherst planning officials.
In the face of these large-scale ventures, many small-business owners in the area said they feel as though the town of Amherst should loosen up on some of its sign restrictions, in part so they can take advantage of what they anticipate will be an increase in consumer traffic.
"A small business needs all the help they can get to compete against the giants," said Couturier, who plans to move his business to his home when his lease is up at Heritage Place plaza in April.
The arrival of Wal-Mart was a blow for him.
"What else kills people like me is I can't sell DVDs or CDs because no matter how hard I try, Wal-Mart is up the street beating all my prices," he said.
Couturier also has found some of Amherst's sign ordinances too restrictive, keeping him from attracting customers into his store.
"No flags, no neon signs, no anything extra," he said.
As the town's regulations spell out, signs are not to detract from the "rural character of the town."
Yet many small-business owners say that rural character belongs in the town's village area, with its stately colonial buildings and minimal commercial activity, rather than along the bustling Route 101A.
"They should just let 101A slip away from this," said Ali Ewiess, owner of Bentley's, a restaurant near the new Lowe's. "It's an avenue. It's not a street."
Visibility challenge
Ewiess said he would like to be able to have a sign with interior illumination, but his business doesn't fall under the correct category, as described in the town's sign ordinances. Instead, he uses exterior illumination, a light shining on his sign from below, and that's inadequate, he said.
The town allows for signs with interior illumination when a sign master plan is involved, when there are groups of three or more contiguous commercial units or when a lesser number of businesses total not less than 20,000 square feet.
Signs also have strict size specifications based in part on the square-footage of the store.
As Ewiess sees it, such rules mean the larger stores or commercial ventures have more flexibility and potentially better visibility.
"The town has wanted to keep it looking as low-key as possible," said interim zoning administrator Charlie Tiedemann about Route 101A. "But it does realize that it is a commercial zone, and a business has to prosper."
Tiedemann, who has been involved in planning issues in Amherst for many years, said the planning board has responded to complaints from small-business owners by including an option for three contiguous businesses in its sign master plan process.
But visibility can be a challenge, particularly when stores are far from the road, in the interior of the plazas, according to Margaret Woods, owner of Designer Consigner, a clothing store tucked away inside Amherst Plaza.
Woods said her business does well in part because she inherited a large group of loyal customers when she bought the business about a year and a half ago.
Yet Woods also said she would like better visibility along the road. She said the businesses in her area are working with the landlord to improve the plaza sign. According to Tiedemann, landlord preferences are another factor in determining the effectiveness of signs.
Woods also would like to be able to fly a flag to attract visitors, she said. Among the types of signs prohibited by the town are banners, pennants, ribbons, streamers and any sign that contains flashing, intermittent, rotating or moving lights, except to show time and temperature.
Nick D'Agostino, owner of the Oak Furniture Store in Heritage Place plaza, said he is all for keeping Amherst Village quaint. Route 101A is another matter.
"This is the business district," he said. "This isn't where Paul Revere made his midnight ride."
Traffic concerns
D'Agostino, who caused a stir in the spring of 2004 when he put up a flag display near his store that included patriotic signs, said he pays $6,000 a month in rent. "And I have a little rinky-dink sign," he said.
D'Agostino, who said his business has suffered in the last 16 months because of the economy, isn't upset about the arrival of Lowe's.
"Competition is healthy for everybody," he said. "But the town officials need to change with the times."
He said he would like to be able to put out temporary signs, indicating special sales or other features, when he needs to.
Temporary signs are allowed for special occasions or events of a specific duration, such as an annual sale, said Heather Seitz, technical assistant in the town's planning department. But they require permits and can be up for no more than 30 days.
In regulating these signs, planning officials are especially concerned about anything that would affect traffic, particularly a driver's ability to see when turning in or out of parking lots, Seitz said.
Business owners can attract customers through other forms of advertising, Tiedemann suggested. And the plazas should promote themselves as "destinations," so people will associate them with particular businesses.
But he also acknowledged there can be high turnover, which can make it hard for the plazas to establish such an identity.
For Couturier of Hi Fi Exchange, the rent increases – he started out paying about $1,000 a month and now pays $1,500 – have amounted to excessive overhead.
"I have to sell a lot of records to cover the rent," he said.
With the arrival of the huge new Lowe's, he said, he's anticipating steeper rent hikes.
"The value of land has skyrocketed along there," said Tiedemann.
Richard Mori, owner of Mori Books in Heritage Place plaza, is already stinting on electricity, keeping parts of the store unlit when it's empty, because he said his rent is high.
"As rents go up around me, what's going to happen?" he said.
— ELLEN GRIMM
THE TELEGRAPH