Sexual harassment and the system
What happens when a complaint is filed in NH?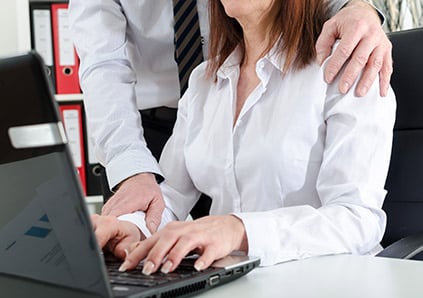 Lynda had put up with the sexual comments from her boss at a southern New Hampshire workplace. She was told she needed to wear more revealing shirts. She was asked if she would like to make more money stripping for a bachelor's party. At one point, he offered to show her his "night crawler."
She had put up with him sticking his finger in her cleavage and "accidentally" brushing her breasts, once rubbing them.
But one day in the summer of 2011, he put his hands under her shirt at her desk and squeezed her breasts hard from behind, pinning her so that she couldn't get out of her chair. That was when she decided she had enough and reported him.
First, it was to a co-worker, who told her she "needed her job," which she did, but she quit anyway. Then, she called an attorney. Then she filled a complaint with the federal Equal Employment Opportunity Commission. Then she went on her own to the police. And finally, she filed suit in federal court. After years of litigation, last year she walked away with a substantial settlement.
But, even as dozens of high-profile women joining the #MeToo movement to tell their stories of sexual harassment on social media, Lynda asked NH Business Review not to use her real name, nor would she name her harasser in the newspaper.
First, she is still worried about retaliation from him and his family, but mainly she said she couldn't relive the experience publicly. She didn't even want to repeat the above details to a reporter — all come from her complaint — only confirm that she still stood by them.
"When you read that," she said fighting back tears, "you don't understand the horror of it. You can't experience how awful the work environment was. It is extremely embarrassing. You feel people are judging you instead of him. 'Why didn't she fight back, or say more, or not put up with it at the very beginning?'"
Federal cases
With all of the national, and even international awakening of sexual harassment, there has been no apparent evidence of women coming forward in New Hampshire, at least not yet.
There has been no surge in the 40 or so annual complaints filed with the state Human Rights Commission or the EEOC. Lawyers who represent plaintiffs in such cases also say they have not received more inquiries. If there has been any interest, it has mainly come from attorneys representing businesses and organizations, which are getting (or are taking more seriously) complaints reported internally or have stepped up their training.
Still, the cases keep coming at a steady clip, and a few make it into federal court:
• In June 2015, in a case still pending, a Sandown woman charged that a training manager at Richard J. Boudreau & Associates, a Salem debt collection agency, talked about strip clubs and touched her hair, pinched her on the side of the waist and asked her to go out with him on Friday night for drinks and not tell her husband. When she reported the behavior in May 2014, she was allegedly told that the manager was being overly friendly. Other managers mimicked her complaints and she was fired a month later for not meeting her quota, though she claimed it was in retaliation. In its answer to the complaint, the company either denied most of the more serious allegations and especially the retaliation.
A trial is scheduled for September.
• In February 2017, a Danville woman filed a complaint alleging that a technician at Foss Motors, a dealership in Exeter, repeatedly slapped her on the buttocks, but her supervisor, rather than firing the technician, suggested she might consider leaving instead. In its answer, the company admitted that the technician hit the plaintiff, but denied that the action was unwelcome. It also admitted that her supervisor told her she should take the afternoon off and think about whether she wanted to work with the company.
"Nothing has been proven yet," said Larry Foss, who said that he couldn't comment further on pending litigation, but he did add that "Foss takes sexual harassment very seriously, and will not tolerate it."
A trial is scheduled for July 2018.
• In July of this year, a female truck driver from Raymond filed a complaint alleging Londonderry-based Continental Paving fired her — supposedly because she did not feel safe — when fellow workers verbally used such words as "bitch," "c–t" and "douchebag," and, after she complained, the company refused to communicate with her. In its answer, the company simply said it didn't have sufficient information to admit or deny the allegations.
• In October 2011, in a case before the state Human Rights Commission, a then 23-year-old Nashua waitress complained that the owner of a Nashua diner repeatedly made sexual allusions to her breasts, offered to pay her for sex, tapped her on her buttocks and even pushed his groin into her. But she was fired when she complained about this to the owner's partner and son. The harassment and subsequent firing devastated the waitress, who lost her apartment and her car. The diner has since closed, but the elder owner, contacted at his home in Massachusetts, protested that he did not speak English, and referred all questions to his son, at a New Hampshire phone number. No one answered at that number and there was no way to leave a message.
The Human Rights Commission awarded the plaintiff $15,000 in March.
Slim chances
Most cases don't get as far as the Nashua diner case. Indeed the case was the first decision the state Human Rights Commission made on the merits since 2010. To be fair, most plaintiffs primarily file with the commission because it's a mandatory first stop before going to court.
Plaintiffs can also file complaints with the EEOC in Boston, but most prefer to start with the HRC. Because it's local, they say they get a more thorough investigation and there isn't a limit on the award. But some miss the commission's 180-day deadline to file, whereas they have an additional two months to file at the EEOC.
So last fiscal year (ending Sept. 30, 2016), there were 40 workplace sexual harassment cases filed at the commission, which accounted for 17 percent of the complaints filed with the HRC. There were only two such filings against New Hampshire employers at the EEOC, fewer than 4 percent of the total filings.
Either way, the plaintiffs' chances aren't good. Of the 229 total cases closed last year, the commission decided 93, and only found probable cause in a fifth of them. Of those 23, four involved sexual harassment. Some 76 were settled or there was some kind of reconciliation and another 39 found their way to the courts. More than 50 were simply dropped.
At the EEOC, chances are a little better. In sexual harassment cases during the last five years, the agency found probable cause in eight of 26 cases.
Moving target
To obtain that probable cause ruling is a long process. Thanks to 2011 state budget cuts that have not been restored, it now takes nearly a year before a HRC case is even assigned to an investigator, who takes anywhere from six to 18 months to complete a probe, often brushing up against the two-year limit to complete a case, according to statistics shared by the commission.
As a result, about a fifth of those filings may not choose to wait around after a 180-day waiting period (or less if the commission agrees) and go straight to court, while others either settle or reconcile (about a third) or just drop the case (about a quarter).
There is no easy way to search for sexual harassment cases in the federal and state court system in New Hampshire. Suffice to say, there aren't many, and they are often settled confidentially and early.
Jon Meyer, a Manchester employment lawyer who handled the three cases mentioned earlier, says it represents about a fifth of his caseload.
Often, attorneys are dealing with a moving target, as the original company being sued changes ownership or goes under.
In one of the aforementioned cases, Richard J. Boudreau & Associates dissolved, selling its assets to Schlee and & Stillman. With Boudreau no longer in existence, Schlee said that it hadn't been informed of the dispute and was therefore not responsible. An attempt to get the case thrown out on those grounds failed, but the issue still might cloud any future decision, even if the plaintiff should win her case.
Since the Nashua diner shut down, the plaintiff's attorney, Jannette Mooney has had to chase the owner in Massachusetts to collect the judgment.
"These guys were long gone," said the Amherst lawyer. "I didn't make a dime on that case. My client never saw a dime. She did it because it was the right thing to do, but it was such an emotional, draining experience."
Her client was so depressed throughout the process that trying to deal with the court system was not an option, she said. Her client had had difficulty getting out of bed for years, she said.
This became an issue even in the high-profile case of the former Hudson-based Fred Fuller Oil, whose owner was charged by multiple women for being, in the words contained in the EEOC complaint, a "serial harasser."
The EEOC brought two cases, the first settled in 2005, when the company agreed to pay $750,000. In 2013, two more women filed similar charges, one saying she left after repeated unwanted comments and groping, and her close friend who was fired after retaliation.
Fuller declared bankruptcy, however, so the EEOC was left without a target, but attorney Lesley Johnson, represented the women and went after Fred Fuller as an individual. Fuller's attorney at the time maintained that antidiscrimination laws applied to companies, not people, but since it was a matter of state law, the federal judge in the case checked with the NH Supreme Court, who ruled that Fuller could be held personally liable.
Fuller settled for a $3.7 million award, fully paid to the victims, said Johnson, who lauded the Supreme Court decision as "landmark on the issue that individuals can be held liable for aiding and abetting sexual harassment, and for retaliation."
'Harsh' legal system
Most experts say that sexual harassment is not mainly about sex, but about power.
"It demonstrates the disproportionate lack of power at work," said Sarah Mattson Dustin, director of policy at the NH Women's Foundation. If there were more policies promoting gender equality in the workplace, there would be less of an opportunity for such things to occur, she said.
But to many of those on the receiving end, it is more personal than political.
Lynda, for instance, doesn't feel vindicated, despite getting a substantial award.
"The legal system is very harsh for those who have been abused," she said.
She is particularly upset because she has a young daughter, who was a toddler when the harassment was taking place.
"You tell little kids if someone touches you to speak up, but as an adult I didn't," she said. "My parents taught me that, and I didn't. I kept telling myself I needed the paycheck, but as a mom, I don't want my daughter to go through that for a paycheck."
Yes, #MeToo is a "great movement," she said. "But I really don't want to be a poster person for sexual harassment. I don't think I'm strong enough to handle the criticism or the publicity."