Senior alert system a step closer to reality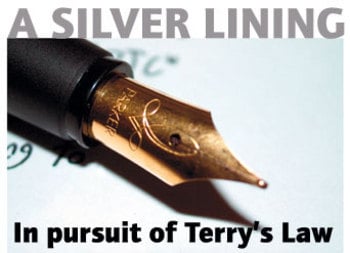 EDITOR'S NOTE: The Telegraph has chosen this legislation to highlight a bill's life through the Legislature, a project that will include a series of stories that follows each step of the legislative process and the people behind it.
CONCORD – A new missing persons alert to find older adults with mental impairments or anyone with a developmental disability cleared the state Senate Wednesday.
The Senate voted to change the timing for this new alert from this July 1 to July 1, 2010. The other change made to a House-passed bill (HB 279) would apply to any mentally-impaired person 55 or older who goes missing; the House reserved the alert for those 65 or older.
State Sen. Robert Letourneau, R-Derry, said delaying this law was in part due to concerns the state broadcasters lobby had brought to a Senate committee.
Last month, a leader in the broadcasters group urged the Senate to wait for Congress to act on a pending federal bill or give more time before a state law because this alert could not automatically be added to their emergency broadcast system.
"We're going to give the media time to gear up for it. This is not a slam-dunk issue,'' Letourneau said during an interview.
The bill goes back to the House to determine if it agrees to the changes or disagrees and seeks a committee of House and Senate negotiators to try and work out the differences.
State Rep. Peter Batula, R-Merrimack, the bill's sponsor, could not be reached for comment Wednesday.
Last month, Batula said there was no reason for delay because more than a dozen states have alerts and his bill does not compel any media outlet to carry the alert.
Mary Stipe, of Merrimack, and Anne Conceison, of Amherst, came up with the idea of a Silver Alert program in memory of their mother, Teresa Canty Cahill, a victim of Alzheimer's disease who died last July.
The House approved it on a voice vote without debate after removing Silver Alert from its name.
Conceison deferred to Batula's advice about the effective date but was delighted both branches of the Legislature are on board with the need.
"This shows legislators have heard us and realize this is so badly needed," Conceison said after the Senate vote.
"If it's a choice between waiting for this or having no program, I would be willing to wait."
Stipe thanked the Senate for its support but was concerned about any unnecessary delay.
"I'm so grateful to the Senate for acting on this," Stipe said.
"If this alert is delayed in getting setting up, that just means it would fail to help people who go missing in the meantime."
Letourneau said there's no dispute the alert could help save lives.
"All of us know of someone who has had Alzheimer's who got lost on their way to somewhere," Letourneau said.
Sen. Bette Lasky, D-Nashua, said she sought a lower age threshold for the alert because there have been cases for those in their late 40s to begin having symptoms of Alzheimers' disease or dementia.
There are at least 12 states that have adopted senior alert laws and New Hampshire is one of five other states scheduled to take the issue up this year. Texas Democratic Congressman Lloyd Doggett has offered a federal bill (HR 632) to create it nationwide.
Batula said he tried to strike the right balance between a program that will mobilize a statewide search for someone quickly with enough requirements that this person was really missing and unable to find their own way home.
Studies done for the National Alzheimer's Association conclude that half of those with the condition who go missing for 24 hours suffer severe injury or death.
The New Hampshire bill is written to dovetail with the Amber Alert that Congress passed in 2003 to automatically send out over all radio and TV stations in a home state when a child is abducted.