Sears to close Salem, Manchester stores
Rockingham Park, Mall of New Hampshire stores to be shuttered by November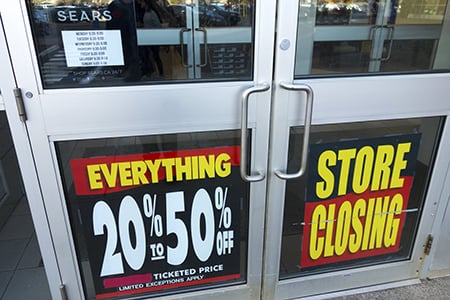 The Sears stores in Salem and Manchester are on the troubled retail giant's new list of stores slated for closing.
The company announced Thursday morning that it will be closing an additional 46 Sears and Kmart stores – 33 Sears stores and 13 Kmarts – across the country in its latest effort to pare down and continue operating. All of the stores will be shuttered by the end of November, with liquidation sales expected to begin as early as Aug. 30.
The two New Hampshire stores on the list are at the Mall at Rockingham Park Mall in Salem and the Mall of New Hampshire in Manchester.
In a statement, the company said, "We continue to evaluate our network of stores, which is a critical component to our integrated retail transformation, and will make further adjustments as needed."
The company had 365 Kmart stores and 506 Sears full-line stores as of May 5, though some were already closing. Over the last year, 379 stores were closed by the company.
A full list of the 46 stores slated for closing can be found here.