Role of women lawyers has come a long way in 30 years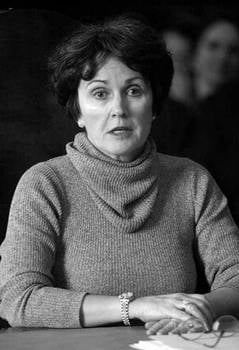 When the New Hampshire Women's Bar Association held a dinner a few years ago to honor the first 100 women admitted to the New Hampshire Bar, some were surprised to discover how many of those first "pioneers" are still around and still practicing law.
"I was surprised to see how many of them were my colleagues that I had cases with or cases against," says Kelly Ayotte, who in 2004 became the state's first female attorney general. "I had expected I really wouldn't know many of the first members of the New Hampshire bar. It shows how far we've come in such a short period of time."
At a time when roughly a third of the active members of the New Hampshire Bar are women, it may seem odd that women in courtrooms and law offices were a rarity a mere 20 or 30 years ago.
"Then it was thought of as a novelty," says Manchester attorney Cathy Green, who began her career in criminal defense law as a public defender 28 years ago. "When I started practicing, there were three of us who regularly appeared in court."
One of the other two was Laura Kahn, a divorce lawyer. The other was a civil litigator named Linda Dalianis, who in 2000 became the first woman appointed to the New Hampshire Supreme Court. Other women, less well known, also are making their mark on the legal profession in ever-increasing numbers.
"I was in a trial last year, and when I looked around the courtroom, I noticed the judge, the prosecutor, the court clerk and the defense lawyer were all women," Green notes. "And law school classes these days are more than half women."
There are now 1,916 women among the 3,895 active bar members in New Hampshire, according to November 2005 figures from the New Hampshire Bar Association. The numbers shift dramatically, however, when broken down by age group.
Among lawyers aged 24 to 30, women actually outnumber men, 140 to 116. Men are still a majority in the 31-40 age group, 706 to 602, but not nearly by the margin of their elder brothers in the profession. Lawyers in their 40s number 1,206 men and 704 women, while men outnumber women 1,258 to 394 among those practicing between the ages of 51 and 60; and 390 to 64 in the 61-70 age group.
"It wasn't until the end of the 1960s that there were any appreciable number" of women entering the bar, says Dan Wise, communications director for the state bar association. "Then it took off in the '80s."
Lingering issues
If the practice of law is no longer a "non-traditional" role for women, issues of inequality remain a stumbling block on the career path of many women in the profession, says Catherine Shanelaris, who chairs the bar's Gender Equality Committee.
"I think, in general, things have progressed so well for women in the bar over the last 20 years that a lot of people think that the issues are now nonexistent," says Shanelaris.
But treatment by other lawyers, barriers in networking and treatment by clients were among the issues most frequently cited by in a "Gender Equality Survey" survey sent by the committee last year to all lawyers with e-mail addresses on file at the bar association. (A total of 470 responded to some or all of the questions.)
Inequality in pay and benefits remains an issue for women in the profession, Shanelaris says. "It's still more prevalent that women are the caretakers of children, and often they're not paid the same salary and the same level of benefits as men because they might need to leave to take care of addressing those child-related issues."
"Women at this point are entering the profession in relatively equal numbers, but they are not advancing in their profession equally with men," says Heather Krans, president of the 200-member New Hampshire Women's Bar Association. In addition to networking opportunities, the organization offers continuing legal education courses, along with clinics and seminars on such topics as stress management and balancing work and family responsibilities.
Promoting more flextime in law offices also is one of the organization's goals.
"Certainly one of the existing problems for women in the law is the unavailability of family-friendly schedules," says Krans.
Courtrooms offer an uneven playing field, some lawyers contend, with at least one complaining in the survey of a case in which a continuance for medical-pregnancy issues was denied, while others were granted for a sports injury. Some women complained of being addressed in court by their first name, while male lawyers are addressed as "Mister." Terms like "dear" or "sweetie" are used sometimes by court officials, and even judges. Such terms, when coming from the bench, can pose a dilemma for a lawyer who does not want to antagonize the judge at the expense of her client. Martha Van Oot, a past president of the New Hampshire Bar Association recalls one such instance when she was representing a client in a Massachusetts court.
"The judge leaned over and said, 'Well, dear, what can I do for you?'" she recalls. "I was there to get a default judgment lifted against a client. He was obviously going to give me what my client wanted to get, so I let the 'dear' go by."
Disappearing barriers
Then-Judge Dalianis did not let it pass unremarked when a bailiff greeted here with a "Good morning, dear" in the early days of her 20 years on the Superior Court bench.
"That's Judge Dear," she informed him. "He meant well," she says, "He didn't know what he was doing."
When she began appearing before judges as a young lawyer in 1970s, she says, "there was a sense that women in the courtroom were kind of novelties, not necessarily up to the task." But she does not recall personally encountering any overt signs of disrespect.
"I was too young and inexperienced to know," she says. "In my view, I did the best I could to represent my clients the best way I could, and I have the feeling the cases tended to come out the way I thought they should, anyway."
Dalianis draws on her own experience in assessing the challenge involved in balancing a career in law with the roles of wife and mother. "In order to do both reasonably well, one has to be extremely well organized," she says.
And court calendars are not easily or often adjusted to accommodate personal or family schedules.
"If it's 'My child has a ballet recital,' it's 'Motion denied'," says Dalianis. "'My child has to be admitted to the hospital,' 'Motion granted.' 'I'm pregnant and I'm tired,' Well, that's too bad. 'I'm scheduled to deliver': We can postpone for a couple of weeks."
All things considered, the first woman on the state's high court sees the scales of justice in rather close balance when it comes to opportunities for men and women in the legal profession.
"Right now, we have a female attorney general, we have women as managing partners of law firms. We've had women being president of the New Hampshire Bar Association. It seems to me in my 30 years of observation that whatever barriers were there have disappeared. Now the issue is whether or not a particular individual, male of female, is the best person for the job."