Rochester unveils new Community Development Division
City unites Planning, Economic Development and Building, Zoning and Licensing departments to streamline processes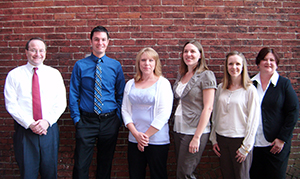 If you have contacted the city of Rochester in the past six months with questions about establishing a new business or growing an existing one, chances are you have noticed a difference. That's because the city has undergone a major reorganization of three key departments that work with the city's business community.
Rochester's new Community Development Division brings together three departments — Planning, Economic Development, and Building, Zoning and Licensing — under one umbrella.
Announcement of the new arrangement came with completion of 12-month reorganization plan for the three departments and the hiring of a new city planner, Michelle Mears — formerly with the Stratford Regional Planning Commission.
"We really wanted to take a look at how people and businesses interact with the city and see if we could re-imagine that process and make it better," said Karen Pollard, the Rochester deputy city manager and director of community development, who was recently nominated by Gov. Maggie Hassan to serve as director of the state Division of Economic Development. "The most important difference is that these three key departments are operating more collaboratively and are more customer-focused, so we are able to streamline that process from start to finish."
While no new positions were created, responsibilities and job titles have shifted to reflect the city's focus on economic and community development. Rochester Chief Planner Jim Campbell will head up the Planning Department that now has two full-time planners in addition to Campbell and a department secretary. Jim Grant, the city's director of Building, Zoning and Licensing oversees a revamped department formerly known as Building Safety and Code Department. The new department also includes one full-time code enforcement officer, an assistant director of building safety, a health and plumbing inspector and two department secretaries.
The new Community Development Division staff included the promotion of four staffers and hiring of three new employees. The division now numbers 14 full- and part-time development and planning professionals and, for FY 2013-2014, is budgeted at just under the 2012-2013 operating budget for the three departments.
"Our goal when we put this plan together was to make better use of the talent we had and to really improve efficiencies across the three departments," said Pollard. "But we also knew that the city is still recovering from the recession and that we had to keep our costs down."
The three departments currently are operating out of their old offices in the City Hall building at 31 Wakefield Street and the old Economic Development Department's offices at 150 Wakefield Street. The goal is to eventually bring the three departments together under one roof, and the City Council already has begun exploring the possibility of rehabbing the old Rochester Police Department adjacent to City Hall.