RiverStone Resources: an insurance industry leader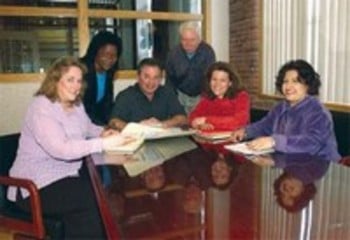 RiverStone Resources LLC is an insurance industry leader, specializing in insurance claims handling/management/resolution, reinsurance and other related consulting services.
RiverStone is part of Toronto, Canada-based Fairfax Financial Holdings Limited, one of the largest insurance holding companies in the world. RiverStone's seasoned claims handlers, industry professionals, attorneys and other associates provide strategic resolution of financial and operational problems within the Fairfax business units.
In 1999, RiverStone moved 30 employees and its senior management team to the historic Waumbec Mill in Manchester from Chicago. Their renovation efforts recently resulted in a recognition award for commitment to historic preservation from the Manchester Historic Association. Officers of the company readily acknowledge that their move to New Hampshire was predicated on a number of factors unique to our state, including quality of life, proximity to cultural and recreational opportunities, low tax burden and ease of business travel. Since '99, RiverStone has grown substantially and now employs more than 240 professionals. The company is committed to sustained growth in New Hampshire and continues to recruit industry professionals from across the country to live and work in the Granite State.
In addition to providing exceptional compensation and comprehensive benefits to its employees, and as part of its overall work environment, RiverStone is committed to being an excellent corporate citizen. The company has made contributions to nearly 70 New Hampshire charitable, non-profit and educational institutions during the last two years on behalf of the company and its employees. Senior management at RiverStone is represented on various cultural, non-profit and charitable boards throughout New Hampshire, including the Currier Museum of Art, the New Hampshire Symphony and the Juvenile Diabetes Research Foundation-NH Branch. The company also sponsors the RiverStone Trophy, presented to the winner of the annual University of New Hampshire-Dartmouth College hockey game held at the Verizon Wireless Arena in Manchester.
RiverStone employees also regularly participate in volunteer charitable activities throughout greater Manchester and the state of New Hampshire.
RiverStone employees have recently served on active duty as members of the New Hampshire Army and Air National Guard. Dennis C. Gibbs, chief executive officer and president of RiverStone, was recently honored by the U.S. Department of Defense for his support of the military and his continued commitment to RiverStone employees who serve in the armed forces.