Rising drug costs scrutinized
Are pharmacy benefit managers to blame?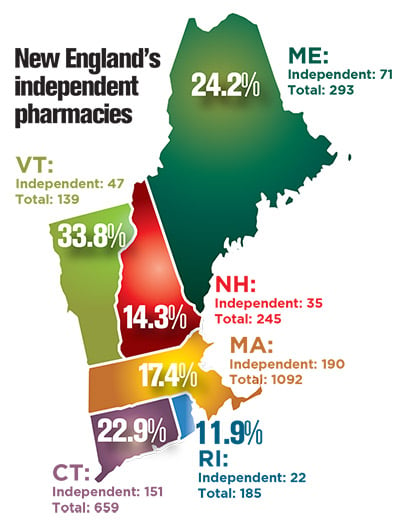 There is a power struggle going on at state and federal levels about the role pharmacy benefit management companies play in either controlling or perhaps exacerbating the rising price of prescription drugs, which is the largest contributor to the rising cost of health care.
It touches on the increasing vertical integration of insurance companies, pharmacy benefit managers (PBM) and chain pharmacies, the rising cost and regulations of "specialty drugs," the powers of various regulatory agencies and even the very survival of the remaining independent pharmacies, which are a "dying breed in this state," in the word of Michael Bullek, the administrator of the NH Board of Pharmacy.
There are now fewer than 25 independent pharmacies in New Hampshire. In 2016, there were 35 — or 14 percent of the total number of pharmacies in the state, the second-lowest percentage nationwide. Nationally, the independent pharmacies make of 36 percent of the total.
Bullek blames PBMs, which in New Hampshire have been more successful in steering patients to their own mail-order pharmacies. They been "a dagger in the pharmacist's side for many years," he said.
Yet, added Bullek, it is happening at the very time that pharmacists are not just "mechanically counting pills like a machine" but giving flu shots and may — if one bill in the Legislature becomes law — start to prescribe birth control pills. Instead of just learning to "lick, stick and pour," pharmacists are learning the basics for primary care disease management, he said.
Key players
PBMs, a minor player at the start of the 21st century, have morphed into a multibillion-dollar industry, though their role is relatively unknown to the public and unregulated compared to the rest of the health care industry.
They are supposed to be a middleman between insurers and drug companies, an independent third-party mechanism to control costs, but the lines are blurring between their functions of managing drugs (including drawing up drug formularies) and selling them.
Three PBMs, all with their own mail ordering businesses and all with ties to insurance companies, have 80 percent of the market share, according to by TJ Parker, CEO of Pillpack, a large independent mail-order pharmacy based in the Manchester Millyard. Parker has written to federal regulators complaining about how they "aggressively exercise their power to limit new entrants" into the market.
But Parker declined to comment for this article, nor did the NH Business Review get any response from the two PBMs with the biggest presence in the Granite State. Express Scripts did not comment by deadline, and CVS referred questions to a trade group, which issued a written statement.
"Pharmacy benefit managers typically reduce prescription drug costs by 30 percent for more than 266 million Americans enrolled in private and public plans," according to Pharmaceutical Care Management Association.
PBMs are well-compensated. The largest client of Express Scripts, with reported revenues of $100 billion and earnings of $4.5 billion, is Anthem, which accounts for 18 percent of their business. But Anthem is suing them for allegedly overcharging the insurer $15 billion for its services, and announced they will drop them and partner with Caremark. On March 7, Cigna agreed to buy Express Script for $52 billion.
Caremark is owned by the drug store giant CVS, (CVS has almost 50 locations in New Hampshire), which is in the process of buying up the health insurance company Aetna for $69 billion.
According to CVS' financial statement, Caremark managed 1.8 billion prescriptions last year, and it accounted for 12.3 percent of CVS' $184.6 billion in revenue.
UnitedHealth's OptumRx oversaw some 1.3 billion prescriptions, with revenues of $63.8 billion.
"How third party is it?" said Gary Merchant, president of the NH Board of Pharmacy. "How independent are they from their parent company?"
Specialty drugs
Merchant raised that question testifying at a hearing on legislation to prevent PBMs from requiring expensive third-party accreditation to remain in their network.
But that's just one of 13 bills facing New Hampshire legislators this session, all aimed at trying to bring down the cost of prescription drugs. The PBMs, insures and some regulators maintain some of this legislation is counterproductive.
But all agree that prescription drugs are the key factor driving up health care costs, accounting for at least 37 percent of cost increases from 2014 to 2016, according to a report in December by the NH Insurance Department.
Specialty drugs — newly introduced lifesaving or life-enhancing drugs that affect a small population — are the main culprit.
In some cases, they cost more than $100,000 per prescription per person. In New Hampshire, while they only accounted for 1 percent of all prescriptions in 2016, their average price was $3,509, which was up 18 percent from two years ago. The cost of generic drugs, which account for 86 percent of prescriptions and averaging $29 per prescription, remained flat.
Pharmacists say that PBMs have broadened the concept of specialty drugs to include some that have been on the market for years.
Third-party accreditation
David Rochefort, a Littleton pharmacist, said he got his wakeup call when Express Scripts said his pharmacy would have to be accredited by a third party, at a cost of $3,000, if insurers were to pay for an IUD, a packaged birth control device implanted by a medical provider.
Other medicines on the list needed no more than a refrigerator, and the state pharmacy board already inspects those, he said. In one case, accreditation cost as much as $39,000, he said.
The state took action on this two years ago, preventing insurers and their PBMs from requiring both accreditation and credentialing. The latter is done by the PBM itself and is not nearly as expensive, but critics raised conflict of interest concerns.
That law sunsets this summer, and three bills have been proposed to extend it.
Senate Bill 581, sponsored by Sen. Andy Sanborn, R-Bedford, originally included a private right to sue, which is unusual for legislation sponsored by conservatives. But Sanborn sees accreditation as an attempt to thwart the free market, preventing small pharmacies from being competitive.
It is the pharmacy board that should decide which pharmacies are safe, not a third party with its own financial interest, he said at the public hearing for SB 581.
But Express Scripts only required one pharmacy that specialized in specialty drugs at Dartmouth-Hitchcock to be accredited by a third-party, and Express Scripts "didn't get a dime" of the fee, testified Curtis Barry, a lobbyist representing the PBM.
Added Heidi Kroll, a lobbyist representing America's Health Insurance Plans, "30,000 sounds like a big number," but in the world of specialty drugs, "it is small by comparison."
Barry also argued that the law went further than legislation passed by two other states that nixed credentialing. The proposed legislation would also examine financial stability, fraud allegations and whether a pharmacy can be integrated into the PBM computer system.
The NH Insurance Department, while not taking a position on the bill, maintained that by acting as a subcontractor for the insurance company, it is actually monitoring the quality of the service it provides.
The state "shouldn't be picking winners and losers," testified Tyler Brannen, director of health economics, at the department. "We should leave that up to the insurance companies."
But SB 581 was amended to ease up on some of the regulations on compounding pharmacies.
The Senate instead passed SB 591, sponsored by Sen. Donna Soucy, D-Manchester, which was amended to forbid accreditation but allow credentialing.
House Bill 1746, sponsored by Rep. Erin Hennessey, R-Littleton, does the same. Hennessey called accreditation, a "pay-to-play scheme."
Other bills have focused on clawbacks, whereby consumers are charged co-payments set by the PBM that exceed the actual cash cost of the drug and pharmacists receive related contracts that contain essentially gag orders, preventing pharmacists from telling consumers that it would be cheaper to simply buy the drug without the co-pay.
Both practices are currently prohibited by state law, said Brannen.
That's why independent pharmacists are backing bills in both the House (HB 1741, which was approved March 6) and Senate (SB 354, which is still in committee) because they would put more teeth into the law.
Debating transparency
At the national level, the debate is over two practices that have a greater effect on prescription drug pricing: rebates and coupons.
Coupons, issued by manufacturers, cover the co-pays for a high-priced specialty drug. That may save the consumer money, but the insurer ends up paying more if that consumer picks the more expensive drug because of it. And the cost gets passed along in higher premiums.
Rebates are discounts negotiated by the PBMs from the manufacturers, which are supposedly passed through to their members.
Critics question whether those savings are pocketed and are demanding more transparency. They also contend that they are really payments by manufacturers to get their more expensive drugs on the formularies, thus increasing the list price that everyone else has to pay.
"They work behind the scenes with the drug companies who want to push certain medications," said Richard Cohen, manager of the Colonial Village Pharmacy in Contoocook and a board member of the NH Pharmacy Association. "They call it a rebate. I call it a kickback."
The amounts aren't trivial. According to the Alliance for Transparent and Affordable Prescriptions (ATAP), manufacturers gave $127 billion in rebates in 2016. More than a third of Express Scripts' receivables, she pointed out, come from drug companies.
"Look at where they are getting their money," said Dr. Madelaine Feldman representing ATAP.
The federal Centers for Medicare and Medicaid Services has been looking into the rebate question, and there is a proposed bill by U.S. Sen. Ron Wyden, D-Oregon, but both initiatives have stalled.
At the state level, ATAP supported HB 1529, sponsored by Rep. Ed Butler, D-Harts Location, which would force PBMs to disclose the rebates they received on their top 25 high-priced drugs, but that bill was killed. It was folded into HB 1418, a more general study bill that would set up a commission to look at prescription drugs. That bill was approved in the House on March 6.
"Every time we make an attempt at transparency, the lobbyists find a way to wiggle out of it," complained Cohen.
"PBMs support transparency that offers consumers and plan sponsors the information they need to make the choices that are right for them. However, we oppose mandates that the Federal Trade Commission and economists say will raise costs by giving drug companies and drugstores pricing powers that could help them tacitly collude with their competitors," was the response from the Pharmaceutical Care Management Association.
Bob Sanders can be reached at bsanders@nhbr.com.