Revamped NHBR.com: more features, mobile-friendly
New NHBR website features a responsive design as well as new sections including "Granite Innovation".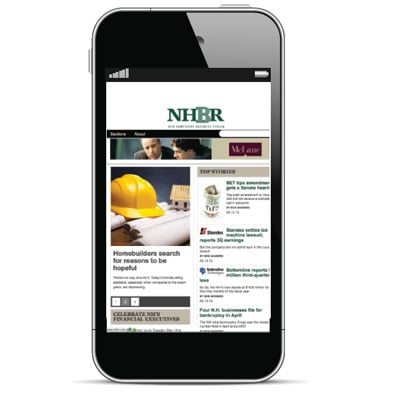 NHBR has launched a new responsive website — a cleaner, more easily navigable site that features a revamped online calendar and a new section on New Hampshire's high-tech and innovation economy.
The new tech section, called Granite Innovation, features interviews with founders of New Hampshire startups, news about funding rounds, and will also serve as the home for NHBR's archive of articles on the state's tech economy.
"There are a lot of companies in New Hampshire – from startups and even more established firms – that often don't get a lot of ink about the impressive things they're doing, so we're hoping to help change that with Granite Innovation," said NHBR editor Jeff Feingold.
Readers with news tips or leads on interesting companies that may fit on the Granite Innovation page should send them to innovation@nhbr.com.
The new NHBR.com, which had a soft launch in April, is responsive, meaning its layout automatically adapts to fit the screen on which it is being viewed, whether a computer, tablet or smartphone, making NHBR content much more mobile-friendly and easier to read on the go.
The website also features a comprehensive calendar of business events from around the state. Readers also may submit their own calendar events, press releases, letters to the editor and news tips directly through the website.