Response to CCT layoffs a case study in cooperation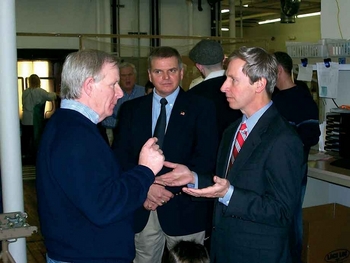 When Car Component Technologies shut its plants in Bedford and Merrimack and filed for bankruptcy in November, nearly 600 workers — the majority of whom are non-English speaking — were laid off with no advance notice.
Rolling up their sleeves to help were New Hampshire state agencies, the economic development community, social service organizations and private industry, who showed they can work together to meet the needs of workers in crisis.
Whenever there is a significant layoff of workers in the state, a multi-agency team springs into action.
The first step belongs to John Duclos, rapid response coordinator for the Division of Economic Development, who contacts the business to find out what's needed. After speaking with Pam Cantin, CCT's vice president of human resources, Duclos convened a local team that included representatives from the New Hampshire Department of Employment Security, community action programs, the Workforce Opportunity Council, the state Department of Health and Human Services and the Division of Vocational Rehabilitation.
"We started by determining a strategy — who else to involve in our efforts, how to reach employees, what services and benefits are available, and how to access them," said Duclos. "While we normally try to do this prior to a layoff, the abrupt closing of CCT meant we had to fast-track the whole process. We were fortunate to be able to work closely with a number of agencies who could provide specific assistance to CCT workers, including The Way Home, a short-term transitional housing facility, and the Latin American Center, as well as the mayor's office and city welfare in Manchester."
Four days after the layoff — and days before Thanksgiving — the Manchester Employment Security office opened on a Sunday. Then in early December a series of 11 informational sessions were held in Nashua and Manchester by the rapid response team, during which participating agencies provided presentations to the CCT workers who had been notified by mail, phone or learned of the sessions in articles in local newspapers.
The next priority: to connect the workers with potential employers and social service agencies. Traditionally companies make few, if any, hires during December, but all concerned felt that it was critical to get the hiring process going before the holidays.
The team, with the assistance of the Division of Economic Development's Business Resource Center, decided to hold a combined job fair and resource fair at the Army National Guard Armory in Manchester.
"Because we were so close to the holidays, we decided to hold the Job Fair and Resource Fair at the same time," said Ron Giroux of Southern New Hampshire Services, a key player in developing of the event. "For the job fair, we invited employers with openings while the resource fair provides social services with an opportunity to meet with workers in need. Usually putting together just one fair is a task and a half, but here we were able to combine the two and put on a highly successful event on short notice."
The result: on Dec. 14, more than 50 employers with job openings, over 30 social agencies and 225 CCT workers attended the event.
"Businesses came in with a substantial number of openings, but most planned to hire after the first of the year," Giroux said. "A big plus was that CCT human resources director Pam Cantin spoke to the employers at the event about the work ethic, skill sets and job performance of the CCT workers, which gave the employers a great overview. While we don't have employment figures yet for those CCT workers, we do know that there has been a significant drop in the number of those collecting unemployment."
Christmas gifts
It wasn't just agencies and organizations that responded to the CCT crisis.
As Christmas approached, one New Hampshire manufacturer spearheaded a move to make the holiday season brighter for former CCT workers and their families.
It all started with a conversation between New Hampshire Business Resource Center Director Roy Duddy and one of his clients, Tom O'Reilly, president of Logo Loc, a Manchester-based manufacturer of custom-embellished apparel and promotional products.
"During the course of a meeting with Tom, we talked about how to provide support for the CCT families," Duddy said. "Tom is very committed to helping local causes, including Special Olympics and other charitable concerns. He brought in several of his salespeople. Together we brainstormed and came up with the idea of donating clothing. Tom and his staff put together the donations, while I worked with Ron Giroux and other social service agency officials on how to make it all happen."
Nine days later, on Dec. 23, Logo Loc opened its doors to CCT workers and their families and provided over $10,000 worth of clothing, including fleece jackets, jerseys, sweatshirts and hats in sizes from infant to adult.
"We estimate that 300 to 400 people came," said O'Reilly. "The last group in was a family with 13 children, the youngest of which was a one-week-old girl; they brought home how important this effort was. It was very rewarding and did wonders for all our workers. But much of the credit for the success of the event goes to the state, Southern New Hampshire Services and the other agencies and individuals who helped make this happen."
Duddy said Logo Loc's "act of generosity" was "clearly appreciated by all those who attended, including Gov. John Lynch, who personally thanked those involved."
This article was provided by the New Hampshire Business Resource Center.