Report: 'Taxachusetts' has lower business tax burden than New Hampshire
Mass. study includes local property taxes as part of its calculations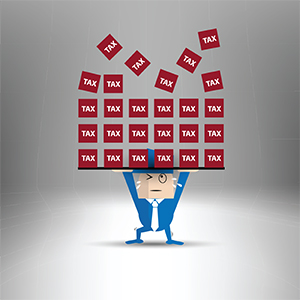 Massachusetts – often scornfully referred to as "Taxachusetts" – actually has a lower business tax burden than most states, including New Hampshire, according to the data used in a recent report by the Massachusetts Budget and Policy Center.
However, the data dates back to 2011 and 2012 and includes local property taxes as part of the mix of business related taxes evaluated. But both included individual state income taxes as well.
The Budget and Policy Center report, which was released March 14 and was touted over the weekend by The Patriot Ledger out of Quincy, Mass., is based on two national reports that came out last year.
Massachusetts ranked 40th, meaning it had the 10th-lowest tax burden for combined business and local taxes in fiscal 2012 as a percentage of private-sector gross state product, the study said.
That percentage was 4.1 percent, according to the study, and gave Massachusetts the second-lowest business tax burden in the region. That ranking belongs to Connecticut, with 4 percent. New Hampshire sits just behind Massachusetts, at 4.2 percent. The national share was 4.8 percent.
The Boston-based think tank relied on a study conducted last year by Ernst & Young for the Council on State Taxation (COST), a Beltway-based trade association that counts such levies as the corporate tax rate, license fees, unemployment tax, property and income taxes.
The COST report also compares the percentage of a state's total tax revenues that businesses pay. Here, Massachusetts was the clear winner.
New Hampshire businesses pay nearly half of the state's revenues – 45.5 percent – while Massachusetts was closer to a third: 38.6 percent. The disparity is even greater when looking at state as opposed to local taxes. New Hampshire businesses paid 59.4 percent of state taxes. That's the fourth-highest share of total state taxes, behind Alaska, Wyoming and North Dakota, all energy-based economies. Massachusetts businesses pay about 34.5 percent.
Massachusetts also beat out New Hampshire when it came to percentage of taxes compared to pre-tax profits (or pre-tax gross operating surplus, to be exact). Massachusetts was better than the national average of 10.2 percent, with a 9.7 percent rate, placing the state at No. 30. New Hampshire, at 10.1 percent, is almost right in the middle.
That data is based on another report released by the Michigan Anderson Economic Group, which includes many of the same taxes as the other, but also severance gross receipts. New Hampshire ranks in the highest on state property taxes and corporate taxes, but beat the pack when it comes to income tax (on pass-through business income, that is).