Realtors trying some different methods to sell off houses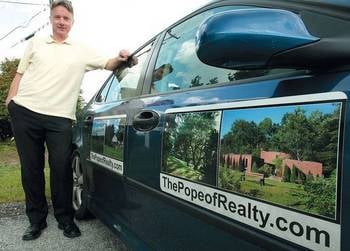 The video begins with spectacular views of the wooded countryside, set to a background of instrumental music. It cuts to an aerial view of a sprawling red home surrounding by trees, and then winds down Old Mountain Road to the home's front door.
Then the music picks up. The song is an up-tempo version of something you might hear in an elevator. The camera moves faster and pans to a bald man with a white beard standing at the front door.
"Meet Samuel, The Seller," appears on the screen in white letters.
Samuel Kaymen, the 72-year-old founder of Stonyfield Farm, is selling his Lyndeborough home. Like many homeowners these days, he opted to have a video tour made to market the property on the Internet.
But Kaymen, being the spirited guy that he is, insisted on narrating the piece himself.
"People love it. They're actually charmed by it," Kaymen said. "Who else could get as excited and explain the house I designed, but me?"
With the real estate market sluggish in southern New Hampshire, Kaymen is not alone in finding a nontraditional way to market a property. How else do you stand out in a sea of for-sale signs?
Nashua Video Tours owner Fred Light says it's becoming more common for sellers to take charge of their own video tours. And some local realtors have come up with clever ways to separate their properties from the crowd.
Residential home sales in Hillsborough County declined about 22 percent in the first six months of the year, and the average home price fell 10 percent, from $280,000 to $252,000, according to the latest figures from the New Hampshire Association of Realtors.
Although New Hampshire has fared better than much of the nation, the statewide inventory has climbed to a span of 11 months – well beyond the six month supply of real estate that tips the scale to a buyer's market.
Realtor Buddy Pope, the listing agent for Kaymen's home, has started attaching magnetic pictures of the properties he lists to his car, so people can't help but see them when he drives around town. "I get a lot of strange looks," he said.
Pope, an agent with The Masiello Group in Amherst, said he has given up on traditional methods of marketing like sending postcards through the mail. They just don't speak to the modern, Web-searching buyer, he said.
"It just doesn't work. I've tried," Pope said. "People are so sick of junk mail. They want a little more honesty. And they want to be in the driver's seat. They are behind the mouse."
Pope said a lot of realtors are rethinking their marketing techniques, but many are not.
"They're going to be left by the side of the road if they don't," he said.
Rachel McMeen, broker of a new real estate firm in Nashua called i-Abode, is using the Internet to attract buyers from other parts of the country. Only about 60 percent of buyers are local, she said.
"So if you stick to some of the traditional things you're probably capturing that 60 percent, but not the 40 percent," McMeen said. "If you're in a hot market it may not matter . . . in this market, you need to look at the 100 percent."
McMeen has exclusive relationships with two Internet relocation portals that feed her leads from all over the country for potential southern New Hampshire buyers.
Nancy Walsh, another Masiello Group Realtor, is offering selling agents a bonus at closing – a gift certificate for a day at the spa at Cassandra's Salon & Spa in Nashua.
"Instead of just sending an e-mail, they have something on their desk that will make them remember my listings," Walsh said. "If things are really tight with money, you're not getting manicures, pedicures."
Walsh is also encouraging her clients spend a little bit of money to stage their homes – which includes replacing outdated decor and wall coverings and getting rid of clutter. With so many homes on the market, buyers have the luxury of choosing the ones that have been updated.
"It's crucial in this market," Walsh said. "All the properties I stage, I sell."
Light, the owner of Nashua Video Tours, said the first time a client narrated a video tour was about a year ago. The idea came to him as an Amherst guy was describing his historic home in preparation for the filming.
"He was explaining it, and I said, you should be in it," Light said. "He was explaining how much he loved the neighborhood, and how everybody knows everybody."
Since then, Light has done about 10 videos that way.
Many newspapers, such as The Telegraph, also now offer video options on their real estate Web sites.
In Kaymen's case, it was strictly the homeowner's idea to narrate the video tour himself, according to Pope, his realtor. But Pope, realizing that no one could explain the "green," home better than Kaymen, didn't stand in the way.
"Videos are standard now on the Internet, but they're usually straightforward, mundane," Pope said. "The homeowner imparts a degree of emotion and sensitivity toward their own place . . . I don't see any region to stand in front of that."
Kaymen, an environmental activist, designed the home in 1991 it to be energy efficient and eco-friendly. It has solar panels and a stove that heats the home on soapstone.
But beyond understanding the unique features of his house better than everyone else, Kaymen had the right personality to do the marketing.
"I'm a showoff," Kaymen said.